A quick recipe for mac and cheese for one. Easy, cheesy, and oh so good.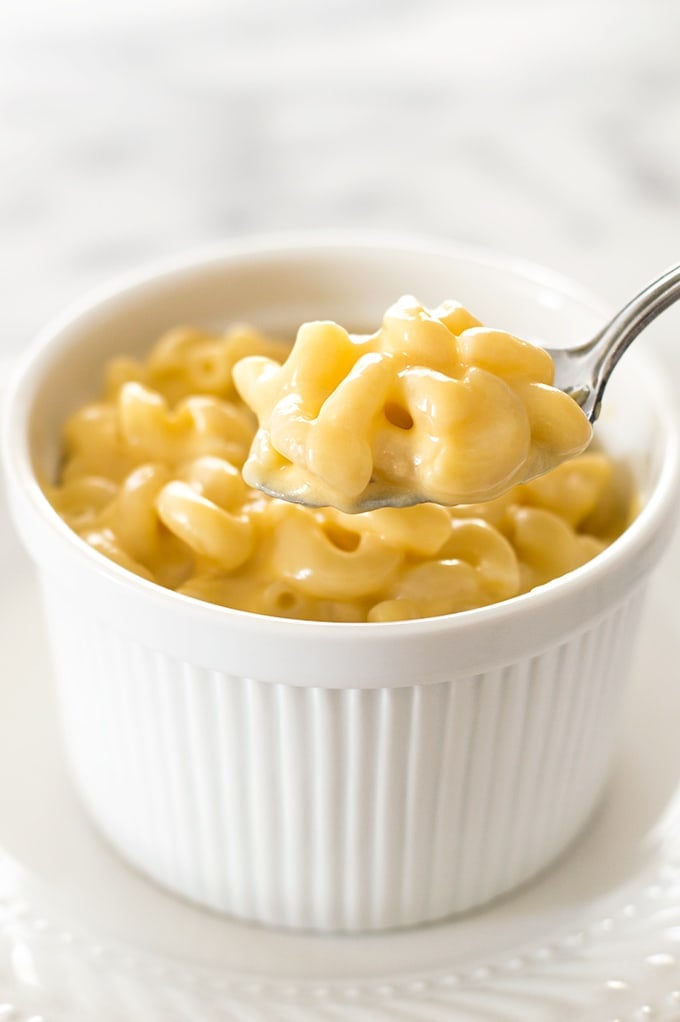 Looking for more cheesy small-batch recipes? Try my Fettuccine Alfredo for One, Scalloped Potatoes for One, and Deluxe Mac and Cheese for Two.
Hey guys, before we get to the recipe today, are you following me on Instagram? I've been having fun using their new stories feature, so if you want to see me testing recipes (get an early preview!) and lots of videos/pictures of Ella, come be my friend over there!
And now on to the recipe… Oh cheesy pasta, first in my heart, always on my mind. How I love thee.
Is it lunch time? Is it dinner time? Are you starving? Do you need a mac and cheese fix? Yes? Well, I've got just the thing for you: Mac and Cheese for one.
This homemade macaroni and cheese is just as quick as the kind that comes out of a box, is one thousand times more delicious, and won't leave you with a mass of gross congealed leftovers. (Seriously, have you ever tried to reheat leftover boxed mac and cheese? It's not pretty and neither is food waste!)
I grew up in a boxed mac and cheese household, and just like when I learned how to make homemade mashed potatoes, when I discovered how easy homemade macaroni and cheese was to make, I had no idea why we hadn't just been making it from scratch all along.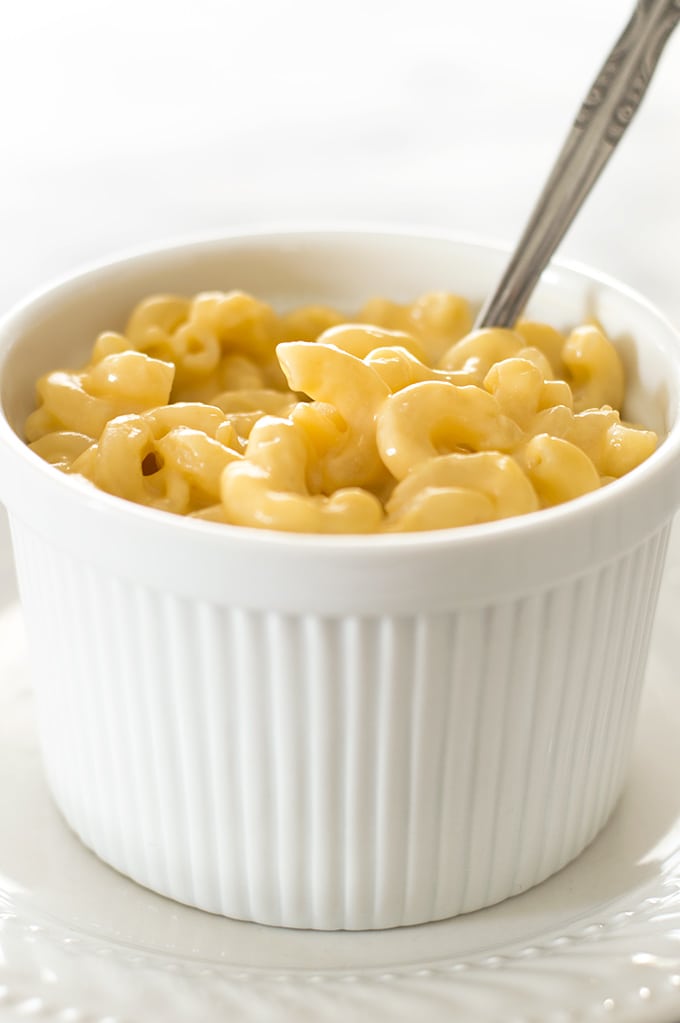 It takes exactly the same amount of time, and if you keep a basic stocked kitchen, cheese and any sort of pasta in your house, YOU HAVE THE INGREDIENTS TO MAKE THIS.
The making process is dead simple, just boil some pasta, and while that cooks, stir together a little butter, a little flour, some milk, cheese, and whatever spices you feel like that day to make a creamy cheese sauce.
In under 20 minutes, you'll have rich cheesy mac and cheese for one, portion controlled and so good you could cry. And if you are feeling extra hungry or want to make it for two or more, the recipe sizes up with just a slightly longer cooking time (see doubling notes).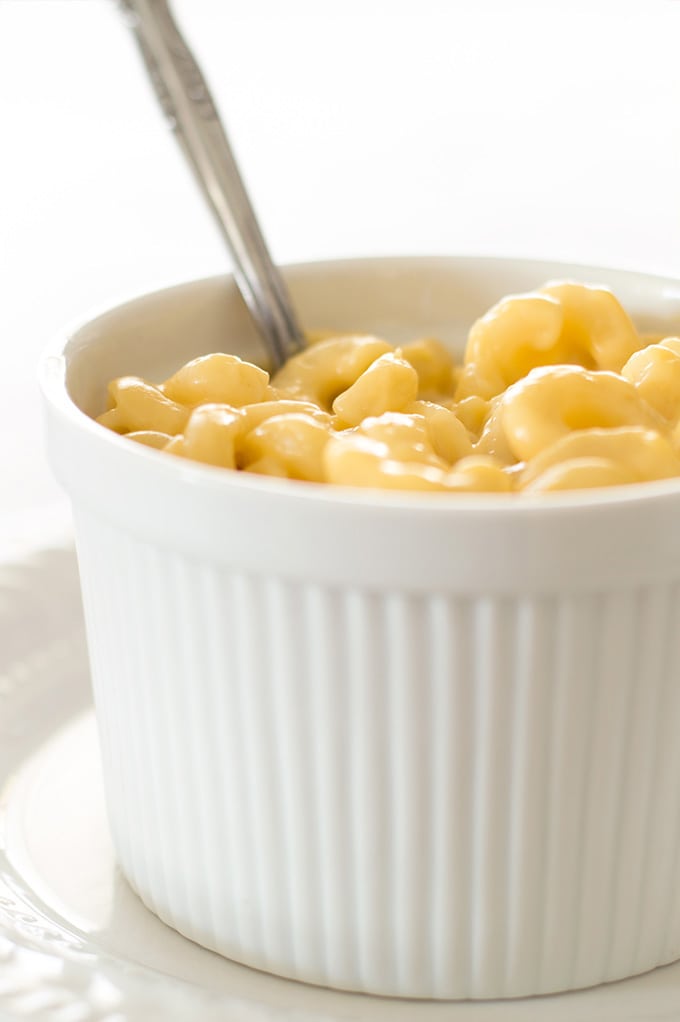 Bonus: I love how quick and easy this dish is, but if you want to give it a little upgrade, scroll to the bottom of the recipe for upgrade suggestions (#2 is my favorite!)
Don't believe me about how quick and easy this recipe is to make? Check out the recipe video and see for yourself! 😉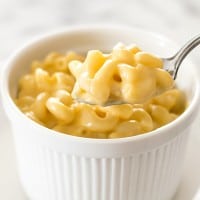 Quick Mac and Cheese for One
A quick recipe for mac and cheese for one. Easy, cheesy, and oh so good.
Print
Servings (Hover or Click to Change Yield):
1
Ingredients
2.5

ounces

(

1/2 cup

) uncooked macaroni

or pasta of choice*

1

tablespoon

salted butter

1

tablespoon

all-purpose flour

1/2

cup

milk

any percentage

1/2

cup

(

2

oz) shredded sharp cheddar cheese*

Salt and pepper

Pinch of cayenne

optional

Pinch of nutmeg

optional
Instructions
Bring a small pot of lightly salted water to boil over high heat.

While your water heats, shred cheese, measure out the rest of your ingredients.

Cook macaroni according to the instructions on the box.

While your pasta cooks, in a small saucepan, melt butter over medium heat. Whisk in flour and cook until a thick paste forms and turns golden, about 30 seconds to 1 minute. Slowly whisk in milk, whisking out any lumps as they form. Cook, whisking constantly until mixture thickens and begins to bubble around the edges, 2 to 5 minutes.

Remove from heat and stir in cheese until completely melted. Add salt and pepper to taste, remembering that the pasta will cut the level of spice once added. If you like nutmeg and cayenne (I do!), start with a sprinkle, taste, and work your way up. A little of both goes a long way!

Once pasta is cooked, drain and stir in cheese sauce. Serve immediately and enjoy!
Notes
*If using a pasta other than macaroni, be sure to measure it by weight and not volume. Different pasta shapes will have different cup measurements for 2.5 ounces, so 1/2 cup is not universal for all pasta. 
*You can use whatever mix of melty cheeses you would like. When I have it on hand, a bit of Pecorino Romano mixed in is my FAV.
Doubling notes: No changes when doubling, except sauce will take a minute or two longer to thicken once the milk is added.
"Upgrade" 0: 1/2 cooked hot dog + ketchup. You know what to do with them. (I do not approve of or endorse this upgrade, but everyone I know insists it's delicious. 😉 )
Upgrade 1: 1/2 cup sliced smoked sausage browned in a skillet over medium high-heat. Transfer sausage slices to a paper towel-lined plate, and blot gently before stirring into your prepared macaroni and cheese.
Upgrade 2: Generously butter both sides of a slice of white bread and use a serrated knife to slice into 1-inch cubes. Pour your cooked mac and cheese into an oven-safe dish and sprinkle an additional 1/4 cup of shredded cheese over the top, followed by the bread pieces. Bake at 375°F for 5 to 10 minutes until bread is toasty.