Three different ways to make delicious, easy homemade whipped cream.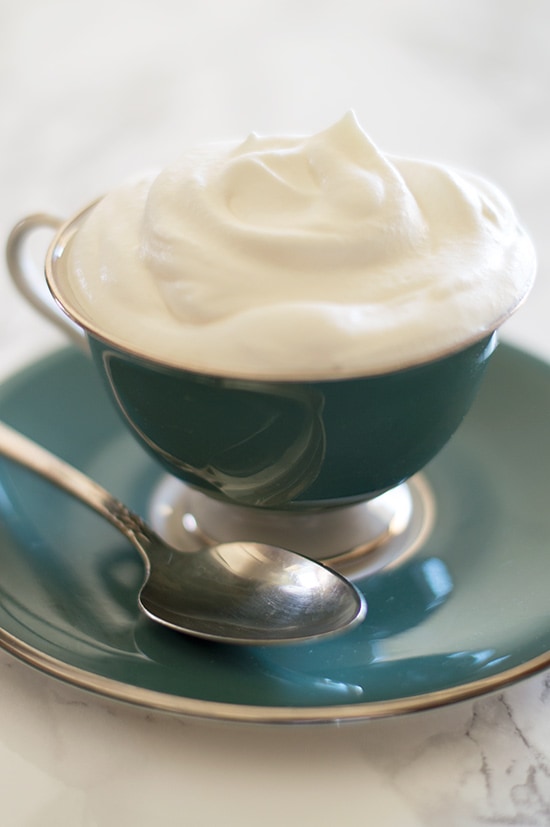 Whipped cream is one of those things you don't really need a recipe for. You get some cream, add some sugar, and agitate the mixture until it resembles something that usually comes out of a spray can. But it's nice to have a starting point, especially if you're like me and can never remember the ideal ratios. So here we go: Whipped Cream 3 Ways.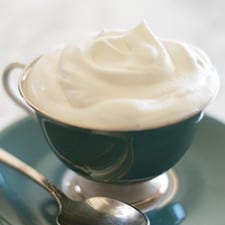 Whipped Cream 3 Ways
Three different ways to make delicious, easy homemade whipped cream. This recipe yields about 2 cups of whipped cream.
Print
Servings (Hover or Click to Change Yield):
8
Ingredients
1

cup

heavy cream

2

tablespoons

granulated or powdered sugar

1/2

teaspoon

vanilla extract

optional
Instructions
Bowl and Whisk/Handheld Electric Mixer
Place bowl and whisk in the freezer for 15 minutes.

Once bowl is cold, remove from the freezer and combine heavy cream, sugar, and optional vanilla.

Whisk vigorously until cream reaches desired consistency, 5 to 15 minutes depending on the amount of cream.
Stand Mixer
Combine ingredients in the bowl of your stand mixer and using the whisk attachment, mix on medium-high until cream reaches your desired consistency, 3 to 6 minutes.
Mason Jar
Place your mason jar and lid in the freezer for at least 15 minutes, until it is very cold.

Pour ingredients into the mason jar, top tightly with the lid, and shake until the contents of the jar no longer sound like liquid, 5 to 7 minutes. Check consistency and continue to shake if it is not done.
Notes
Small-batch Instructions: Recipe can be halved or quartered. For the sugar, half of 1 tablespoon is 1 1/2 teaspoon.
Freezer Instructions: I don't usually freeze whipped cream for use in desserts because it can separate and begin to look unappealing as it defrosts, but you can freeze large dollops on parchment paper before storing in a plastic bag in the freezer to put in hot beverages.
And Some Additional Notes…
Soft, Medium, or Stiff Peaks: You'll see instructions out there for all three because it's really up to you and your personal preference. If I'm spooning whipped cream over a drink, soft peaks are fine. If you are going to pipe it or pile berries on top of it, you are going to want to beat it to stiff peaks. Stiff peaks also seem to hold up better if you are not serving the whipped cream right away. Just be careful not to over-beat and turn your cream into butter!
Powdered or Granulated Sugar: Either one works fine! But, if you are going to be making the whipped cream in advance, then powdered sugar is the better option as it will help stabilize the cream and keep it from weeping as it sits.
Infusing with Alcohol: I usually find that 1 tablespoon of alcohol to 1 cup of cream is a good amount–too much liquid and your cream might not whip up. Make sure the alcohol is very cold and add it to the cream and sugar before whipping. Different types of alcohol are going to have different water content and may react differently to whipping, so it's always best to do a test run if making for company or a special occasion!
Have leftover whipping cream? Check out What to Do With Leftover Whipping Cream for ideas for using up the leftovers.
This post may contain affiliate links, which means I receive a small commission if you make a purchase using them. There is absolutely no additional cost to you.