Three different ways to make delicious, easy homemade whipped cream.
Whipped cream is one of those things you don't really need a recipe for. You get some cream, add some sugar, and agitate the mixture until it resembles something that usually comes out of a spray can.
But it's nice to have a starting point, especially if you're like me and can never remember the ideal ratios, so let's have a little chat about homemade whipped cream.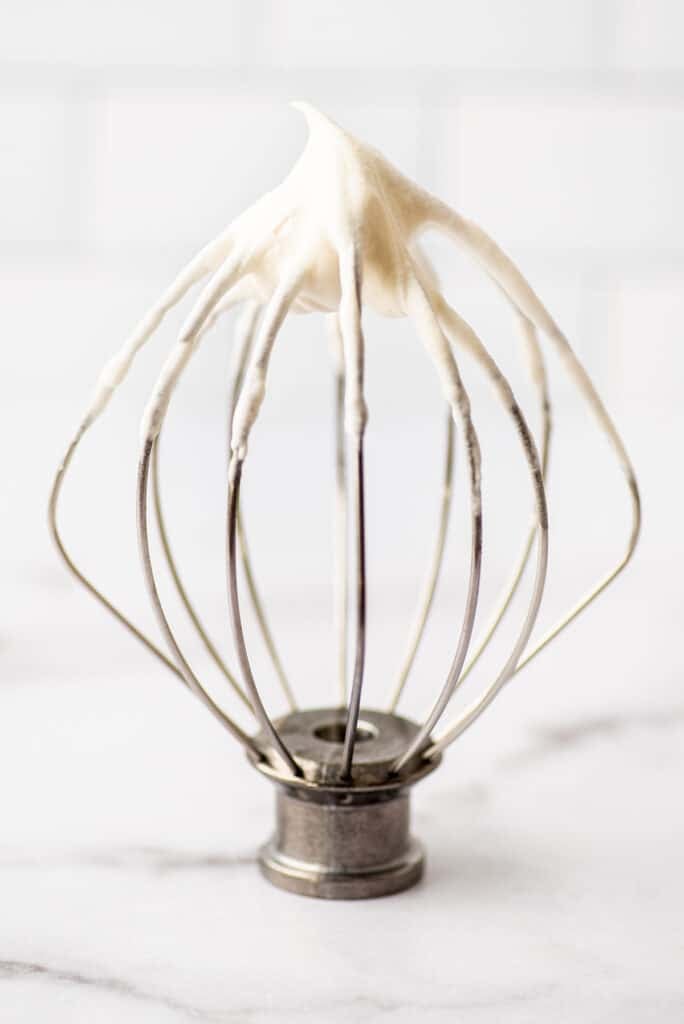 Ingredient Notes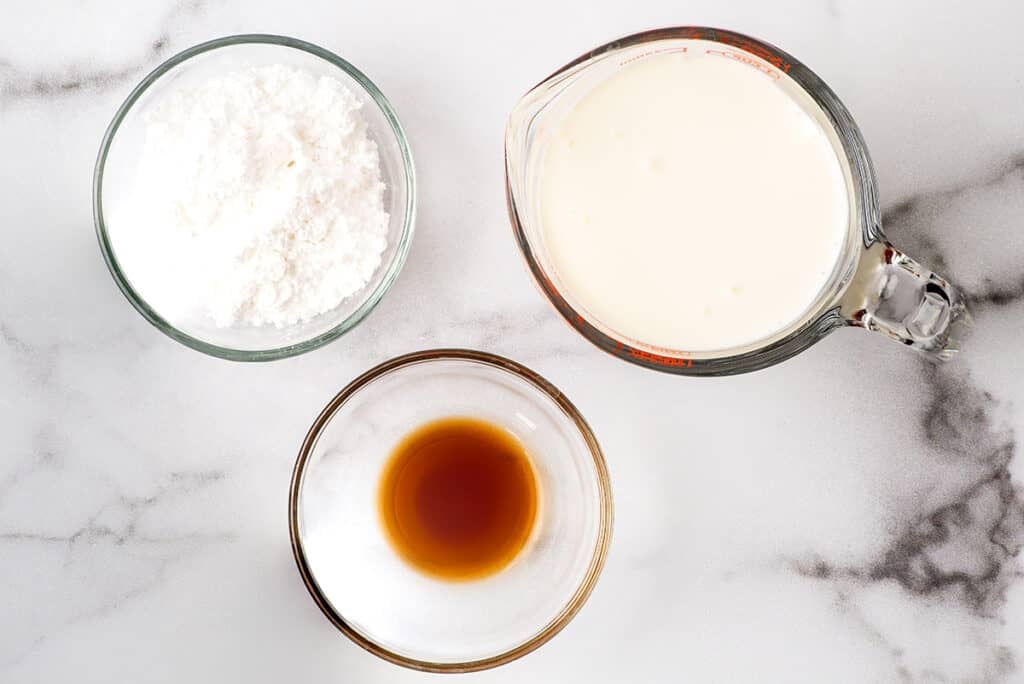 Heavy cream/heavy whipping cream: You can use heavy cream (30–36% milk fat) and heavy (whipping) cream (36%+ milk fat) interchangeably when making whipped cream. Heavy whipping cream with its higher milk fat content will give you a slightly more stable whipped cream, but the difference is negligible. Have leftover whipping cream? Check out What to Do With Leftover Whipping Cream for ideas on using up the leftovers.
Granulated or powdered sugar: I prefer to use powdered sugar in whipped cream because it contains cornstarch which also helps stabilize whipped cream (makes it less prone to slumping and weeping), but use whichever sugar you have on hand. Just keep in mind that by weight, 1 tablespoon of granulated sugar is almost twice as much as 1 tablespoon of powdered sugar, so whipped cream made with the same volume of granulated sugar will be much sweeter than whipped cream made with powdered sugar.
Extracts and additional flavorings: Extra flavoring is optional, but a little vanilla is always a welcome addition. Other good options are citrus extracts, peppermint extracts, or even a bit of alcohol (more on that later).
How to Make Whipped Cream (3 Ways)
There are three main ways to make whipped cream at home, using a stand mixer, a bowl and whisk (or handheld mixer), or using a mason jar, and while your tools may vary, the method is pretty much the same for all of them.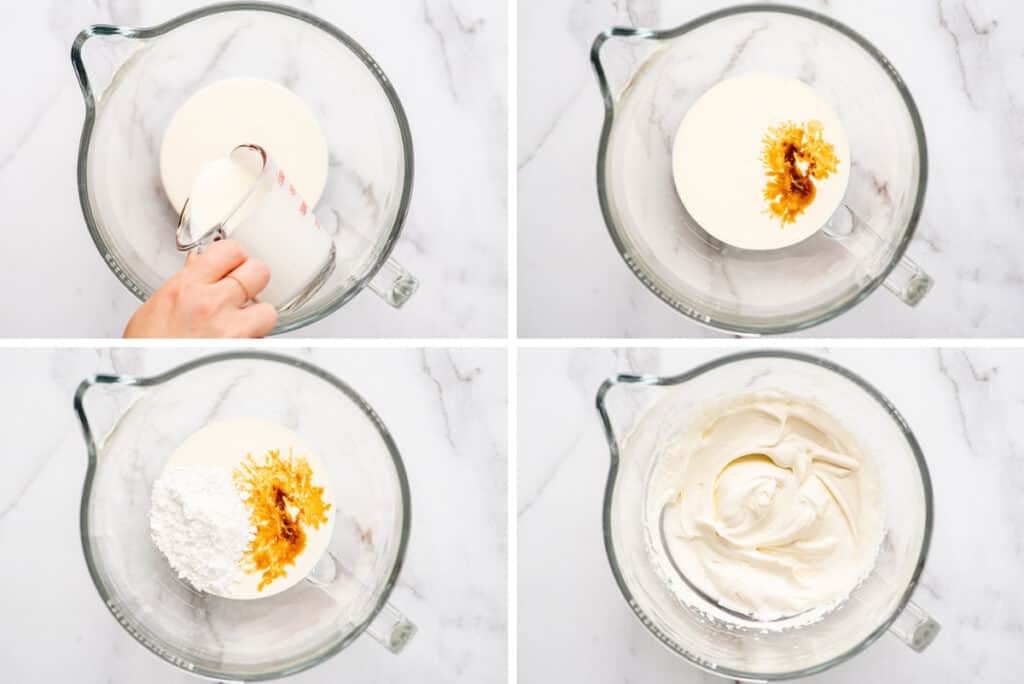 1. Combine all your ingredients in a bowl (or jar).
2. Vigorously mix ingredients until the whipped cream reaches your desired consistency. This could take as little as 2 minutes for a small amount of cream in your stand mixer or up to 15 minutes using the mason jar method.
Making Whipped Cream With a Stand Mixer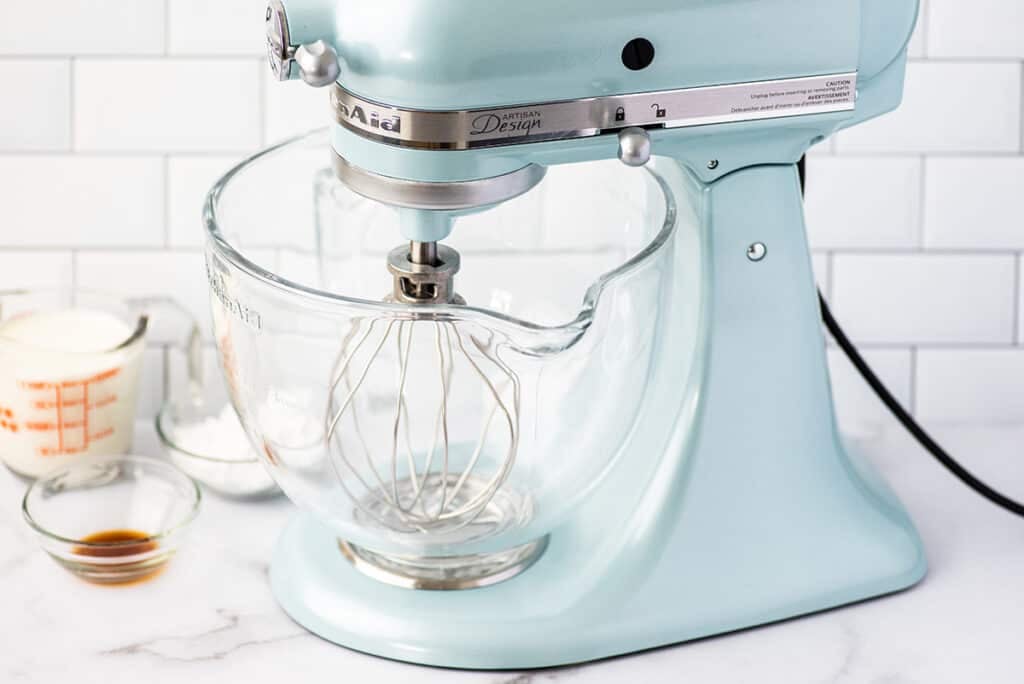 This is my favorite method, especially if I'm whipping a large amount of cream.
Pros: This is the fastest way to make whipped cream, and the high sides of a stand mixer bowl mean that you won't splatter cream around your kitchen while making it.
Cons: Stand mixers are expensive and not everyone has (or needs!) one. It's easy to whip your cream too much and accidentally start to make butter. Depending on your stand mixer, it may not be able to handle whipping small amounts of cream. My model's limit is anything under about ½ cup of cream.
Making Whipped Cream With a Bowl and Whisk (or Handheld Mixer)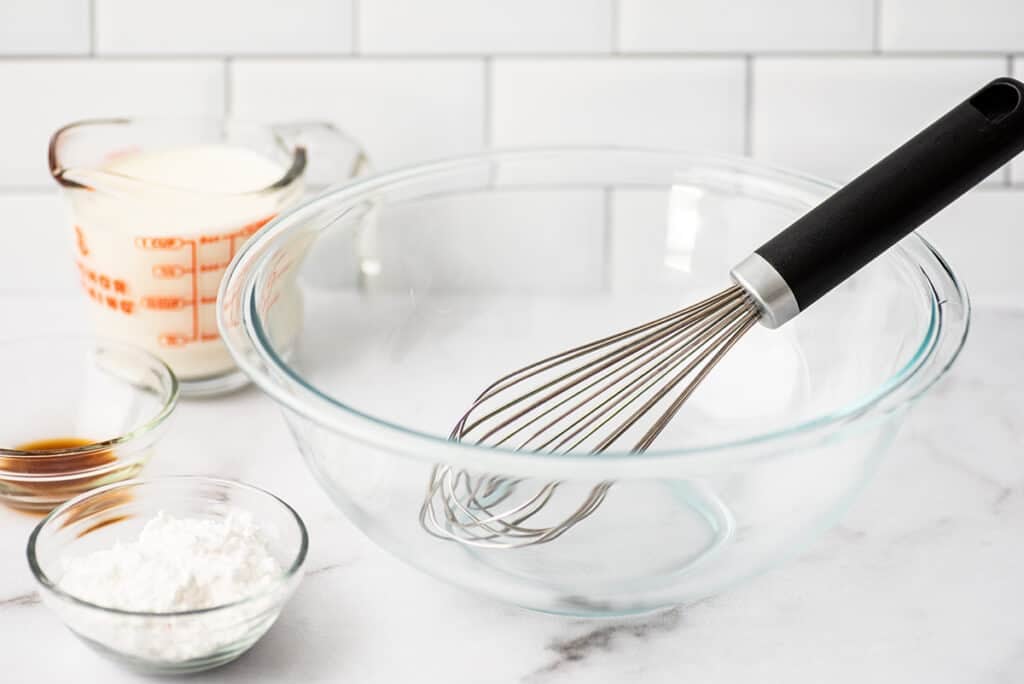 Because I make so many small-batch recipes, this is actually the method I use most often since it works well with almost any amount of cream.
Pros: More convenient to pull out than a bulky stand mixer and much cheaper. Can whip even small amounts of cream and you have better control over the consistency of the final product since you can monitor it more closely.
Cons: Takes longer, especially when using just a whisk. Your arm's probably going to get tired. 😉
Making Whipped Cream With a Mason Jar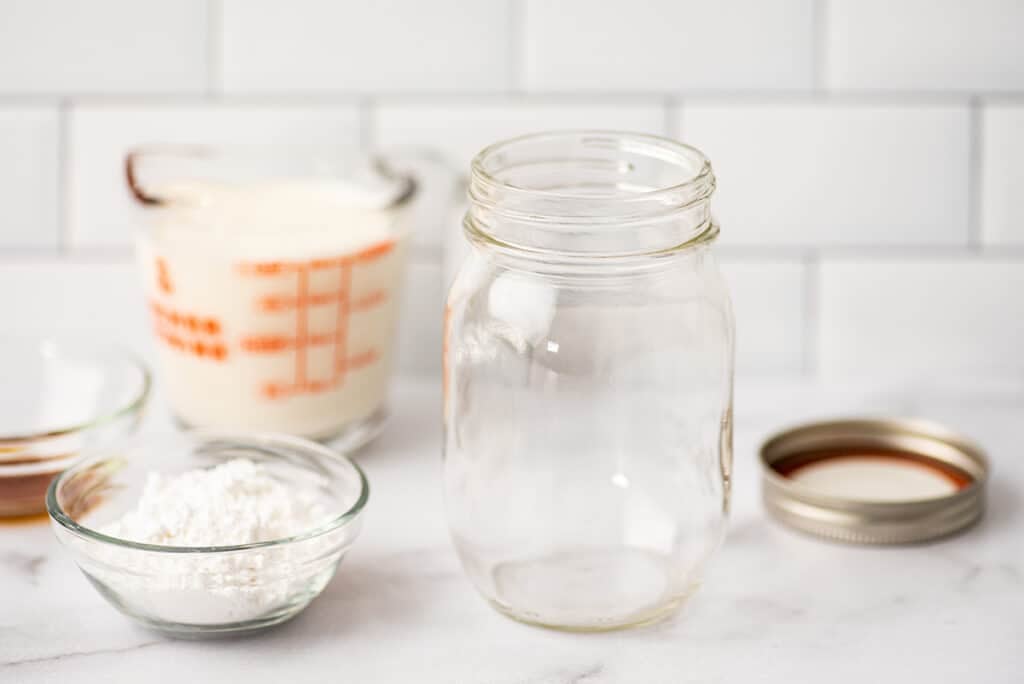 The mason jar method, where you put heavy cream in a jar, seal it, and then shake to whip it, technically works, but it's definitely my least favorite of the bunch, and I only recommend it under pretty specific circumstances.
Pros: Great for occupying tiny kitchen "helpers" or as a fun afternoon project. A solid backup in the unlikely event that you find yourself in a kitchen with no bowls and no whisks.
Cons: A lot of work and not at all time-efficient. It's difficult to get the cream past very soft peaks, so whipped cream made this way is best for spooning over drinks. You definitely will not be able to pipe it.
Variations
Customize your whipped cream with the following modifications (all mix-in measurements are for the full batch of whipped cream using 1 cup of heavy cream).
Cream cheese whipped cream: Use 4 ounces of cream cheese. Beat the sugar and vanilla into softened cream cheese until well-mixed. In a separate bowl, whip heavy cream into stiff peaks and then fold the whipped cream into the cream cheese mixture until uniform in color.
Chocolate whipped cream: Sift 3 tablespoons of cocoa powder in along with the sugar before whipping.
Peanut butter whipped cream: Add ¼ cup of peanut butter before whipping.
Coffee whipped cream: Add 2 teaspoons instant espresso powder along with the rest of the ingredients.
Cinnamon Whipped Cream: Add ½ teaspoon ground cinnamon along with the rest of the ingredients.

FAQ
How much whipped cream will this make?
A good rule of thumb is that whipping cream will double its volume. So whipping 1 cup of heavy cream will make (about) 2 cups of whipped cream.
Can you make whipped cream with half and half?
No. Cream must contain at least 30% milk fat to whip. Half and half, which contains 10.5–18% milk fat will not whip into whipped cream no matter how long you work at it.
Can you freeze leftover whipped cream?
Yes (but…). Whipped cream freezes pretty well. I like to freeze leftovers to use in my hot chocolate or for topping quick desserts, but I wouldn't make whipped cream just to freeze it because it can separate and begin to deflate after being frozen and thawed.
It's also prone to picking up an "off" taste from the freezer, so you want to use it fairly quickly, within a couple of weeks.
To freeze whipped cream, pipe or spoon individual servings onto a parchment paper-lined plate or baking sheet and freeze until solid. Once solid, cut the parchment paper into squares and transfer the whipped cream (still on the paper) to a freezer bag.
When you're ready to use the whipped cream, you can add it frozen straight to warm drinks or allow it to sit at room temperature for 15 to 20 minutes to thaw.
Can I double this recipe?
Absolutely. To change the recipe yield, hover over the serving size in the recipe card below or click if you're on mobile, and slide the slider.
Doubling note: If doubling the recipe and using the mason jar method, you'll need to size up to a quart-size mason jar.
Recipe Notes
Soft, medium, or stiff peaks: This refers to the what happens to the cream when you lift the whisk straight out. Soft peaks will start to stand up and then sort of collapse back into the cream. Medium peaks will stand but flop over at the tip. Stiff peaks will stand straight up. In different recipes, you'll see instructions out there for all three because it's really up to you and your personal preference. If I'm spooning whipped cream over a drink, soft peaks are fine. If you are going to pipe the whipped cream or pile berries on top of it, you are going to want to beat it to stiff peaks. Stiff peaks also seem to hold up better if you are not serving the whipped cream right away. Just be careful not to over-beat and turn your cream into butter!
Infusing with alcohol: I usually find that 1 tablespoon of alcohol to 1 cup of cream is a good amount–too much liquid and your cream might not whip up. Make sure the alcohol is very cold and add it to the cream and sugar before whipping.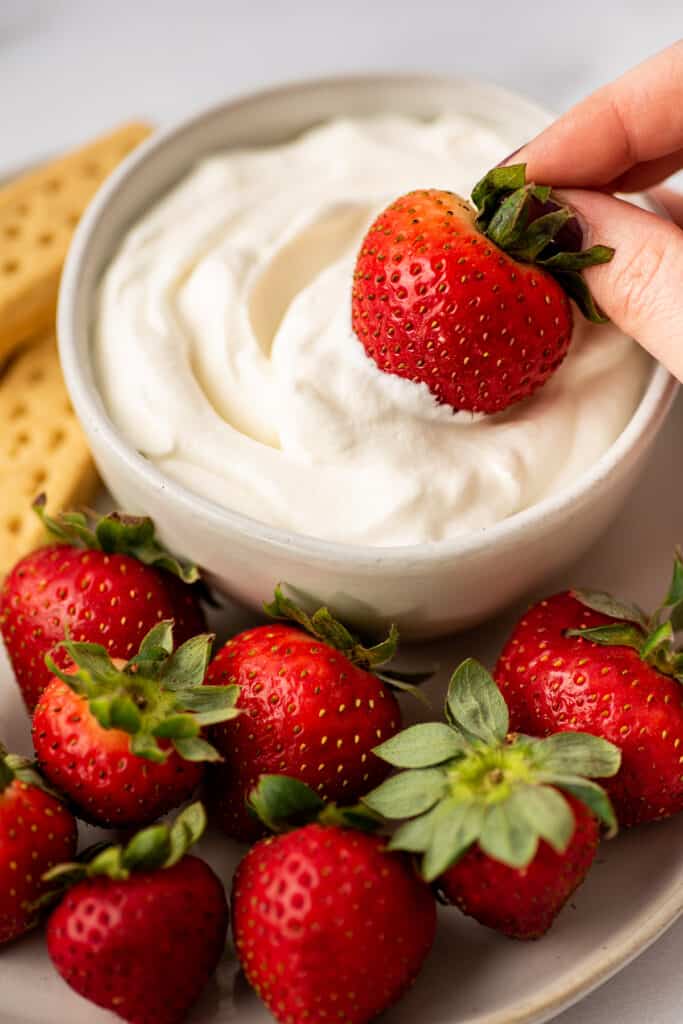 Drink Recipes to Top With Whipped Cream
Recipes to Top With Whipped Cream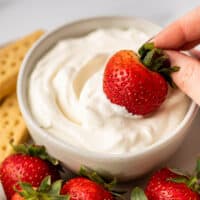 Whipped Cream 3 Ways
Three different ways to make delicious, easy homemade whipped cream. This recipe yields about 2 cups of whipped cream.
Print
Pin
Servings (Hover or Click to Change Yield):
8
servings
Ingredients
Full Batch
1

cup

heavy cream

½

teaspoon

vanilla extract

optional

2

tablespoons

to

¼ cup (15-30g

) powdered sugar

*
Single Serving
2

tablespoons

heavy cream

A couple drops vanilla extract

1 to 2

teaspoons

(

3-5g

) powdered sugar

*
Instructions
Stand Mixer
Combine ingredients in the bowl of your stand mixer and using the whisk attachment, mix, starting on low, working up to medium-high, until cream reaches your desired consistency, 3 to 6 minutes.
Bowl and Whisk/Handheld Electric Mixer
Place bowl and whisk in the freezer for 15 minutes.

Once bowl is cold, remove from the freezer and combine heavy cream, vanilla, and sugar.

Whisk vigorously until cream reaches desired consistency, 5 to 15 minutes depending on the amount of cream.
Mason Jar
Place your mason jar and lid in the freezer for at least 15 minutes, until it is very cold.

Pour ingredients into the mason jar, top tightly with the lid, and shake until the contents of the jar no longer sound like liquid, 5 to 7 minutes. Check consistency and continue to shake if it is not done.
Notes
*Granulated sugar can be substituted for powdered sugar. If using granulated sugar, use 2 to 3 tablespoons or 1 to 1½ teaspoons for the small-batch version.
*You will need to use a handheld electric mixer or a whisk and arm power to make a single serving because a stand mixer is unable to process an amount this small.
This recipe will make approximately 2 cups of whipped cream. Approximate nutritional information is for a single serving of ¼ cup.
Leftover whipped cream can be stored tightly covered in the refrigerator for up to 48 hours. 
This post may contain affiliate links, which means I receive a small commission if you make a purchase using them. There is absolutely no additional cost to you.