Choose your own adventure with this (giant) One Chocolate Chip Cookie for Two, made three different ways, classic, caramel and sea salt, and triple chocolate.
Hey, friends, it's time for another reader-requested post from the survey I ran a while back. After requests for posts on meal planning (I wrote two), and where to buy small-batch baking tools, the third most popular request was for multi-use recipes.
Again, this one surprised me! Choose your-own-adventure-type recipes weren't even something I'd thought about adding to the blog, but now that so many of you have said something, I totally get it.
Having options is fun, so get hyped because today's recipe gives you at least three.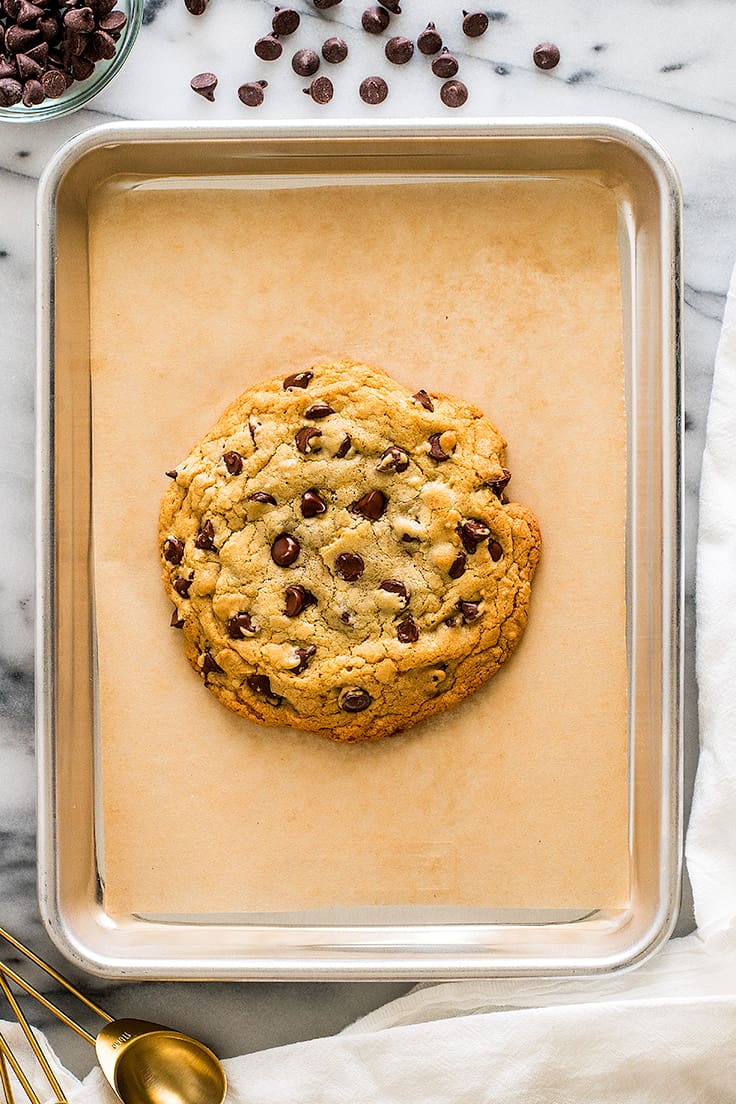 One Giant Cookie, Three Ways
Yes, this is one big, beautiful cookie, and it's ready and able to be customized any way you want it.
The base recipe is a modified version of my ever-popular Small-batch Chocolate Chip Cookies, so it's all the great things about that recipe, quick, zero prep needed, and DELICIOUS.
Only this one is about six inches wide. Hold up your hand, spread out your fingers, and that's about how big this cookie is. It's the perfect size for two people to bake and nibble on all afternoon or to share warm out of the oven for dessert.
See Also: One Peanut Butter Cookie for Two
Drop cookies like this can be made with endless variations because it's just a matter of choosing mix-ins and seeing how much you can pack into a single cookie, but today, to get you started, I'm sharing three.
One Chocolate Chip Cookie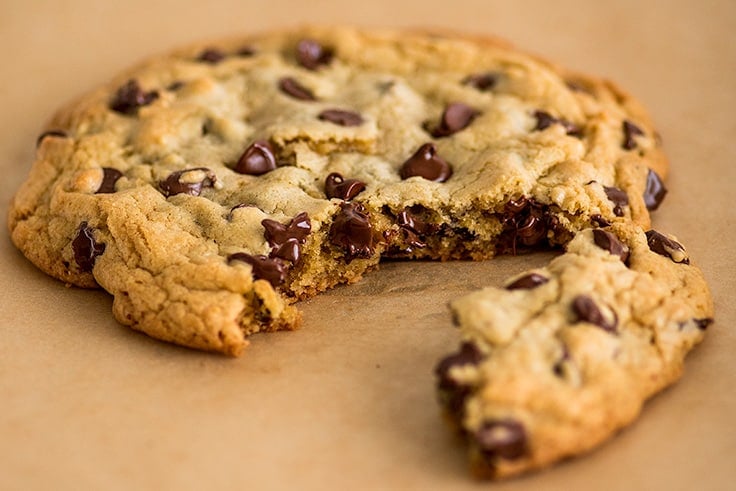 The first option is your Classic Chocolate Chip Cookie. It's LOADED with chocolate chips, the edges are crispy, and the center is gooey.
It must be eaten with a tall glass of cold milk and it's pretty perfect. You can't go wrong with a classic.
Moving on.
One Triple Chocolate Cookie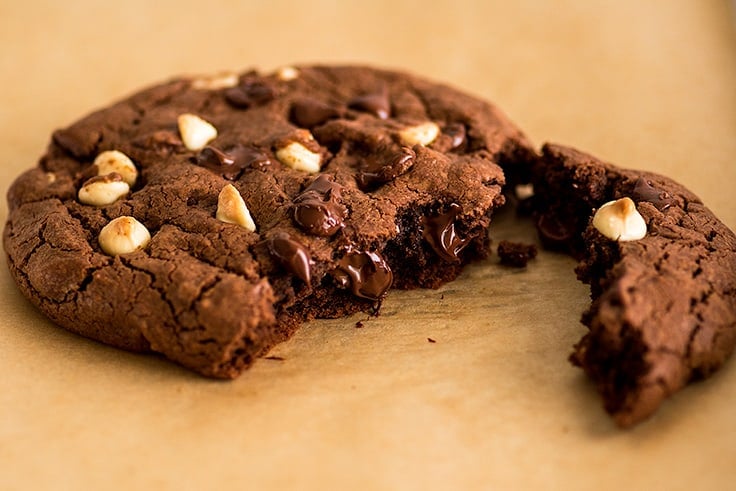 Option two is for all the chocoholics out there, a Triple Chocolate Cookie. A little cocoa powder in the dough turns the cookie base chocolate, and to offset its slightly bitter richness, you add two different types of chocolate chips, semi-sweet and bright and creamy white chocolate.
It tastes a bit like a cross between a cookie and a brownie, and as with cooking brownies, undercooking it just a bit for extra chocolate gooeyness is highly recommended.
One Caramel and Sea Salt Chocolate Chip Cookie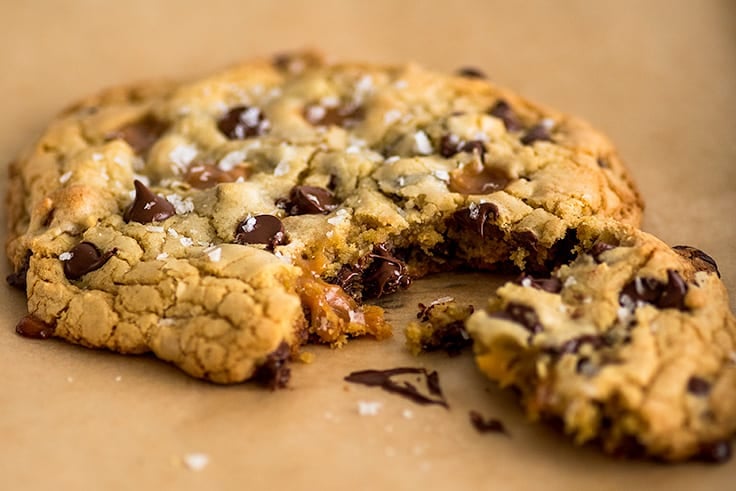 And finally, option three gets just a little classier, chocolate chips plus caramel and some crunchy sea salt.
It's classic chocolate chip goodness with an added caramel chew and salty sophistication. It's kind of a must.
Ingredient Notes
An egg yolk: Because this is a super small-batch recipe, you just need one yolk. For ideas on what to do with the leftover egg white, check out my post What to Do With Leftover Egg Whites (I recommend a small batch of frosted sugar cookies!!).
Butter: Either salted or unsalted butter will work in these cookies. If using salted butter, cut the salt in the recipe by half.
How to Make One Chocolate Chip Cookie
Whisk together butter and brown and granulated sugars. Add egg yolk and vanilla and whisk until well-combined.
Stir in flour, (cocoa powder if making Triple Chocolate Cookie), baking soda, and salt.
Fold in the chocolate chips or other mix-ins.
Scoop dough onto baking sheet and bake until set.
Serve and enjoy!
Other Variations
Make your own: To create your own cookie variation, mix in up to 1/4 cup of mix-ins like chopped chocolate candies, nuts, or dried fruit.
S'mores cookie: Go check out my S'mores Cookie recipe for instructions on how to smash a s'mores inside of your chocolate chip cookie. It's so good!!
Chocolate chip cookie sundae: Make the cookie of your choice, and while it's still warm and gooey, top it with ice cream and chocolate sauce, hot fudge sauce, or peanut butter sauce and whipped cream.
FAQ
Can I make this into multiple cookies instead of one big one?
Yes. You can divide the dough in half and make two smaller cookies. Reduce the baking time to 9 to 12 minutes.
Can I just use a whole egg in this recipe?
No!! Sometimes people tell me they've used an entire egg when a recipe calls for just a yolk or an egg white, and sometimes it works fine.
DO NOT do that with this recipe. It will be far too much liquid and you will end up with a cookie puddle.
Can I double this recipe?
Go for it. The recipe doubles with no preparation changes needed. To change the recipe yield, hover over the serving size in the recipe card below or click if you're on mobile, and slide the slider.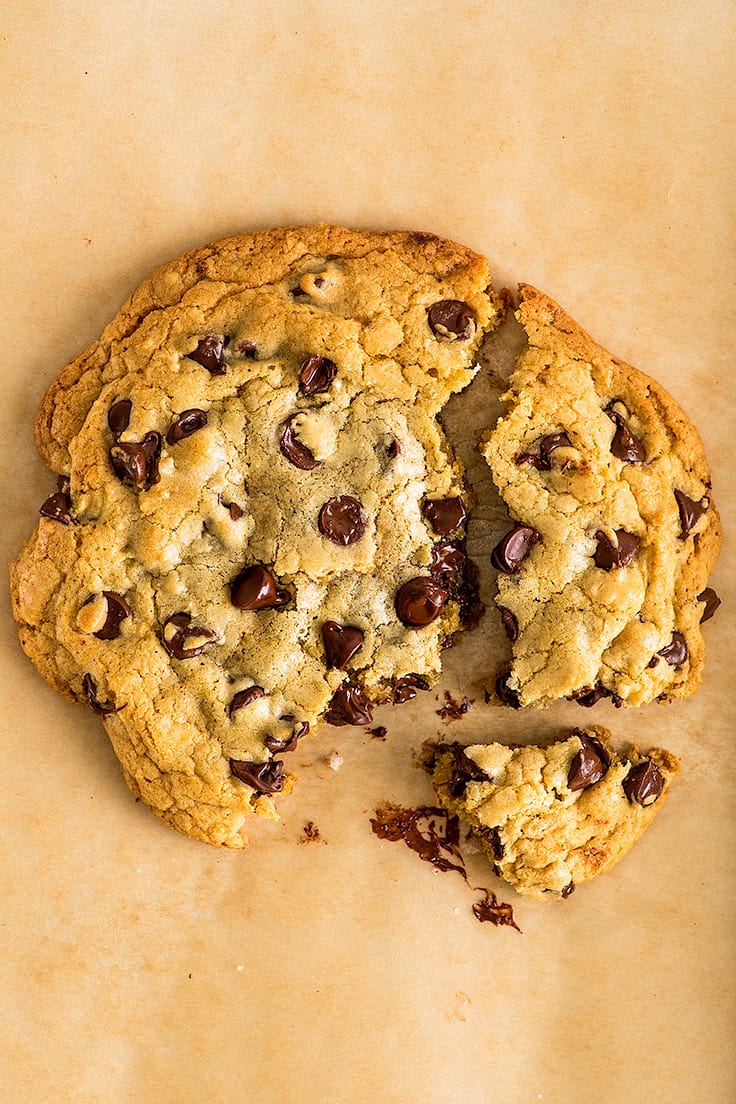 Recipe Notes
To avoid having to split a whole egg, this cookie is made with a single egg yolk. If you are sensitive to the taste of egg yolk in baked goods, you can replace the egg yolk with 1 tablespoon of a whisked whole egg.
More Small-batch Desserts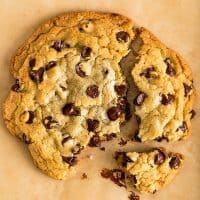 One Chocolate Chip Cookie for Two (Three Ways)
Choose your own adventure with this (giant) One Chocolate Chip Cookie for Two, made three different ways, classic, caramel and sea salt, and triple chocolate.

Print
Pin
Servings (Hover or Click to Change Yield):
2
Ingredients
2

tablespoons

(

1oz

) butter

melted and slightly cooled

2

tablespoons

(

25g

) brown sugar

1

heaping tablespoon (

18g

) granulated sugar

¼

teaspoon

vanilla extract

1

large egg yolk

OR

1

tablespoon whisked whole egg

⅓

cup

(

40g

) all-purpose flour

measured by weight or using the spoon and sweep method*

⅛

teaspoon

baking soda

⅛

teaspoon

salt

if using salted butter, cut salt by half
Classic Mix-ins
¼

cup

(

1.5oz

) semi-sweet chocolate chips
Sea Salt & Caramel Mix-ins
¼

cup

(

1.5oz

) semi-sweet chocolate chips

2

tablespoons

chopped baking caramels

Pinch

of sea salt

for topping
Triple Chocolate Mix-ins
1

tablespoon

(

5g

) cocoa powder

2

tablespoons

(

0.75oz

) semi-sweet chocolate chips

2

tablespoons

(

0.75oz

) white chocolate chips
Instructions
Preheat your oven to 350°F and line a baking sheet with parchment paper or a silicone baking mat.

In a small bowl, whisk together melted and slightly cooled butter, brown sugar and granulated sugar. Add vanilla extract and egg yolk, and mix well.

Add flour, (cocoa powder if making Triple Chocolate Cookie), baking soda, and salt, and stir until combined.

Stir in mix-ins of choice and scoop cookie dough onto prepared baking sheet. (Top with a sprinkle of sea salt if making Sea Salt & Caramel Cookie.)

Bake for 11 to 14 minutes, until the top of the cookie looks mostly set and edges are starting to brown. Allow to cool on the baking sheet for 5 minutes and enjoy!
Notes
*Correct flour measurement is very important in this recipe. For best results, measure by weight or the Spoon and Sweep Method (stir the flour in your container to fluff it up and then spoon it into your measuring cup, sweep excess off with the flat of a knife).
This post may contain affiliate links, which means I receive a small commission if you make a purchase using them. There is absolutely no additional cost to you.