Roasted sweet potatoes are an easy and crowd-pleasing side dish that can be prepped in just minutes.
These roasted sweet potato cubes are one of my absolute favorite fall side dishes. They're super simple to throw together and roast up beautifully with creamy insides and sweet and salty flavor that goes so well with almost any main dish.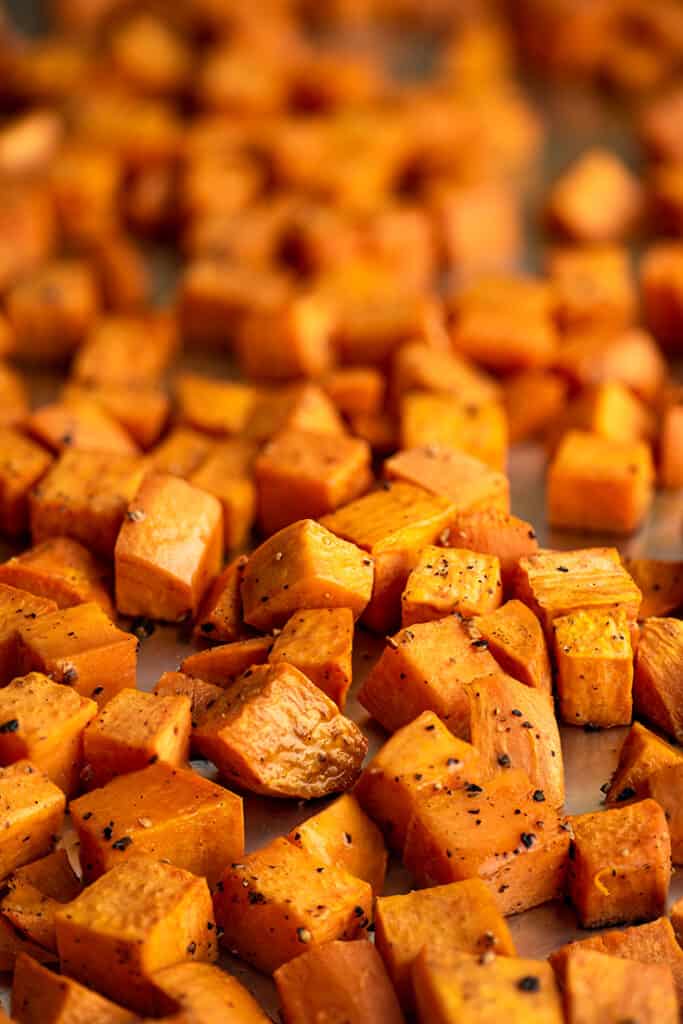 Ingredient Notes
Yams vs Sweet Potatoes
And a quick note on yams vs sweet potatoes so you don't get confused at the grocery store. For years in the US, we've been calling the "soft" variety of sweet potatoes yams as a way to differentiate them from "firm" sweet potatoes, which cook up firmer and waxier than the soft varieties. If you're buying it in a large US supermarket, it's probably a sweet potato, no matter what the label says. True yams are actually an entirely different type of tuber.
Long story short, when you go shopping for sweet potatoes, don't worry if the thing you're buying is labeled "yam." As long as it looks like a sweet potato, that's almost certainly what it is.
How to Cut Sweet Potatoes for Roasting
If you've never cut a sweet potato before, you might be a little surprised at how dense and difficult to cut through they can be compared to a regular potato. Using the proper cutting method will make your job a lot easier (and safer).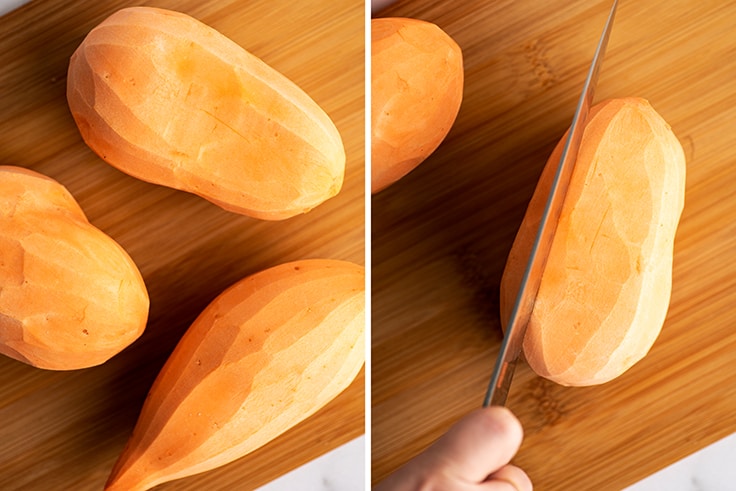 If your potatoes have very long skinny ends, with a sharp knife, cut them off before starting. Then cut a ½-inch piece off of one side of the sweet potato. Set the piece aside and turn the potato onto the cut side so you have a flat, stable surface for the potato to rest on and then cut it into ½-inch slices.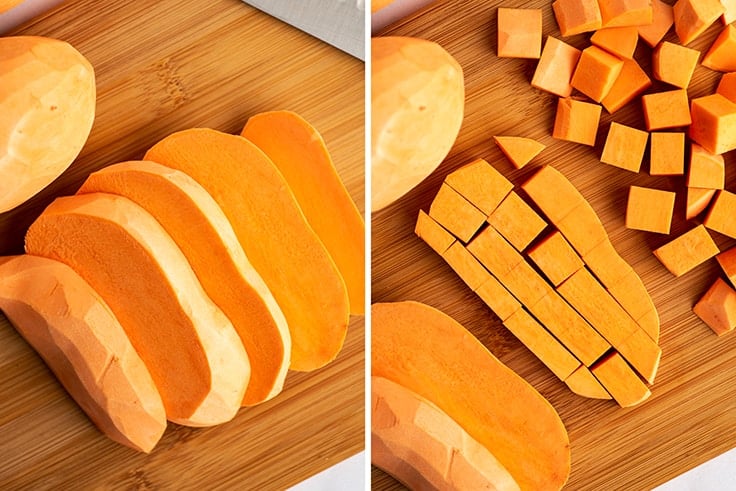 One at a time, cut each of the slices into ½-inch cubes, and you're all set.
This also works for cutting them into fries or large chunks. Just adjust your cuts as necessary.
How to Roast Sweet Potatoes
Once you've cut your sweet potatoes into evenly sized chunks, transfer them to a large baking sheet and add oil. Toss them really well with the oil and then spread them out in a single layer over the baking sheet.
Sprinkle generously with salt and pepper and bake, shaking the pan every 10 minutes, until potatoes are tender.

FAQ
How long does it take to roast sweet potatoes?
Depending on the size of your sweet potato chunks, roasting sweet potatoes at 425°F should take between 20 and 30 minutes.
What's a good dipping sauce for sweet potatoes?
If you want to dip your potatoes in something I recommend making a quick batch of garlic aioli or Greek yogurt aioli. The tangy aioli is *so* good paired with sweet potatoes and takes only minutes to make.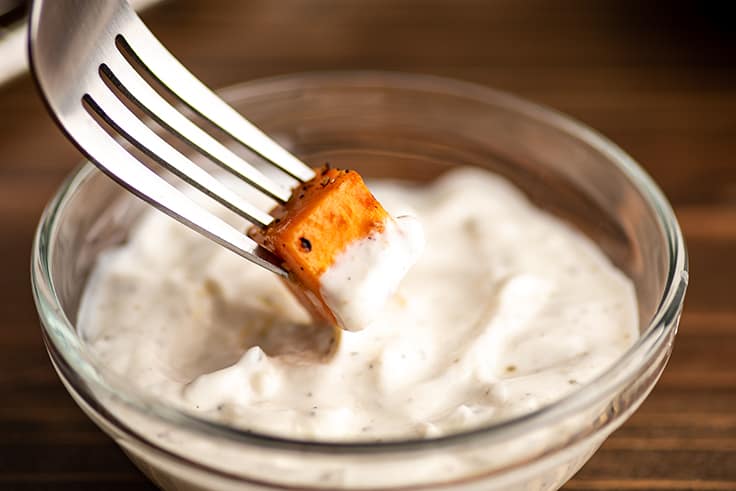 What to Serve With Roasted Sweet Potatoes
Serve the sweet potatoes as a side dish along with meaty mains like:
Or use them instead of meat in tacos, burritos, and salads. One of my absolute favorite ways to serve roasted sweet potatoes is topped with my easy chili recipe and a little sour cream and shredded cheese.
You Might Also Enjoy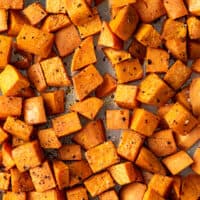 Roasted Sweet Potatoes
Roasted sweet potatoes are an easy and crowd-pleasing side dish that can be prepped in just minutes.
Print
Pin
Servings (Hover or Click to Change Yield):
4
servings
Ingredients
2

pounds

sweet potatoes

peeled and cut into ½-inch cubes

2

tablespoons

olive oil

Salt and pepper
Instructions
Preheat your oven to 425°F.

Place sweet potato cubes on a large rimmed baking sheet and drizzle them with olive oil.

Mix the cubes until well-coated and spread them out in a single layer on the baking sheet.

Sprinkle generously with salt and pepper. Bake for 20 to 30 minutes, shaking the tray every 10 minutes, until sweet potatoes reach your desired level of doneness.

Add more salt and pepper to taste, serve and enjoy!
This post may contain affiliate links, which means I receive a small commission if you make a purchase using them. There is absolutely no additional cost to you.