Welcome to part two of Baking Mischief's meal planning guide, How to Meal Plan Using Google Calendar. This section takes you through why Google Calendar works great as a meal planner, how to set up your meal plan, and includes some extra tips and tricks to get the most out of your meal planning calendar.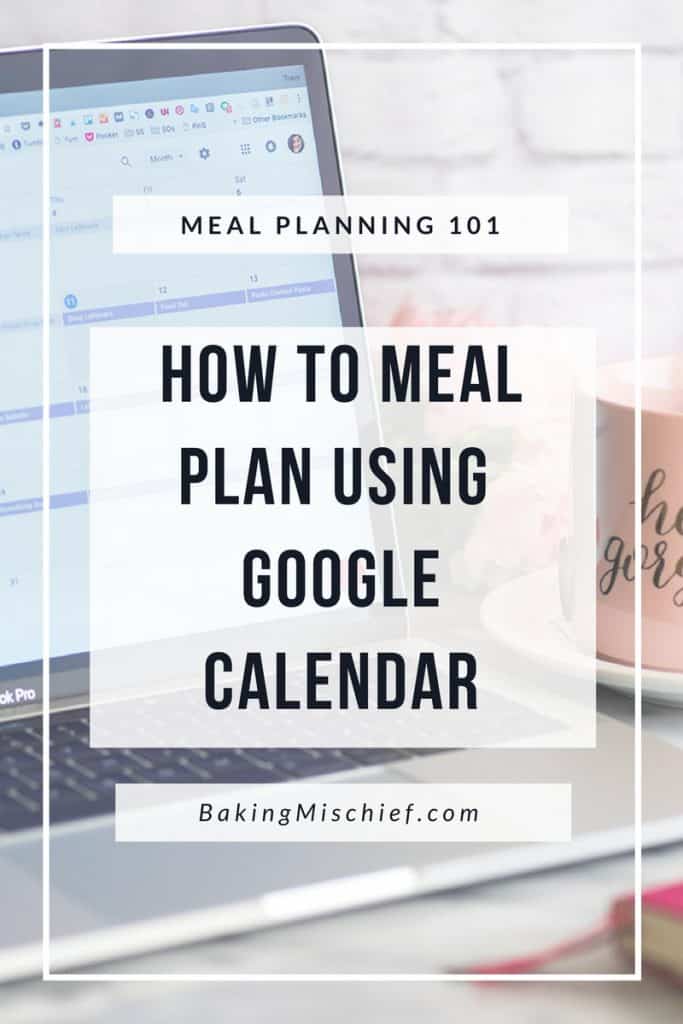 A couple weeks ago, I shared a pretty massive in-depth guide on how to start meal planning. (If you haven't read that post and you're interested in creating a meal planning system, go read it! It takes you step-by-step through setting up a system that will work for you.) In that post, I talked about one of the essential components of meal planning, where to keep your meal plan.
This post may contain affiliate links, which means I receive a small commission if you make a purchase using them. There is absolutely no additional cost to you.
A lot of people have success going low-tech, with bullet journals, keeping it in their planner, or just putting a dry erase board on the fridge. For people who prefer digital, something like Trello is an excellent option, but as I said in that first post, my tool of choice is Google Calendar.
I LOVE using Google Calendar for my meal planning, and there wasn't space in my original post to go into it too much, so today I'm going to take you through using Google Calendar to meal plan, why I use it, how to set up your calendar, and some tips and tricks for getting the most out of your meal planning calendar.
Most of these techniques could probably be applied to any digital calendar you use, so even if you're not a Google Calendar user and not interested in becoming one, there's still plenty of useful stuff here. 🙂
Why I Use Google Calendar for Meal Planning
It's free. Yay!
It's available on all of your devices, so wherever you are, whatever device you have with you, you have access to your meal plan.
You can drag and drop meals around your calendar, which makes planning extra easy.
You can share your Meal Plan Calendar with family, roommates, etc., so everyone always knows what's for dinner.
You have a record of your meals, which you can use to create future meal plans and track eating habits and trends. Plus, it's just fun to be able to look back and see what you were eating three years ago. (For the record, according to my calendar, I was eating Salsa Chicken and Peasant Soup three years ago.) 😉
Setting up Your Meal Plan Calendar
We live in a Google world, so I'm going to assume you have a Google account and know how to access your Google Calendar (if you don't, here's how to do both). Once you're in your Google Calendar, you're going to want to set up a separate calendar just for meal planning.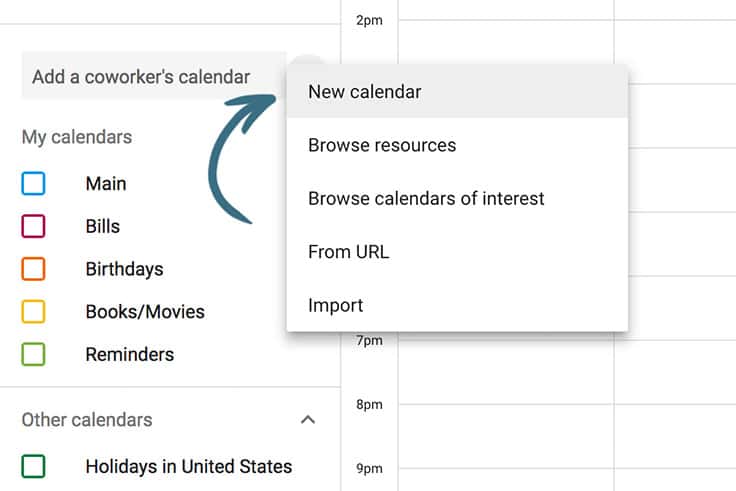 Creating a meal-planning-specific calendar allows you to toggle your meals on and off so they don't clutter your daily calendar and so that if you share that calendar with others, your housemates aren't getting your doctors appointments too.
Extra Tip: Google Calendars are arranged alphabetically so using a special character in front of the title or calling your calendar something like "A Menu" will keep that calendar at the top of your list, which is convenient since you will be adding to it so often.
Sharing Your Meal Plan Calendar
Once your calendar is set up, if you regularly share meals with other people, you can share your calendar with them via the sharing settings. For each person, you can allow them read-only access or allow them to make changes to the calendar. When you invite them to see your calendar, they'll receive an email notifying them that they've been given access to the calendar and it should immediately show up in their "Other calendars" list.
If at any point you are no longer living together or don't want them to have the same level of access, you can revoke access or change your sharing settings in that same menu.
Filling Out Your Calendar
And now, all that's left is the fun part, filling out your meals for the week! I like to do this from the month view. You just click on the day you're planning for, make sure you have the correct calendar selected, and type in the meal you'll be having that day.
That's usually all I do for each entry, but, occasionally, I will click the "More Options" button and add a little more information.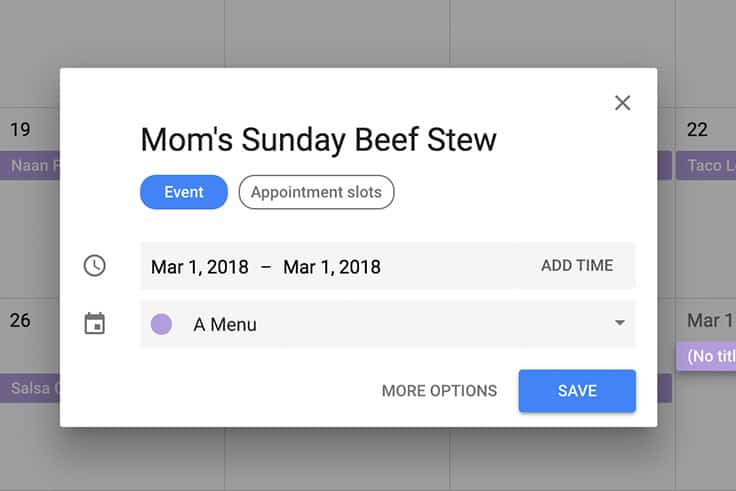 If you're trying a new recipe and it hasn't made its way into your recipe book yet, in the description box, you can add the link to the recipe so you don't have to hunt it down later.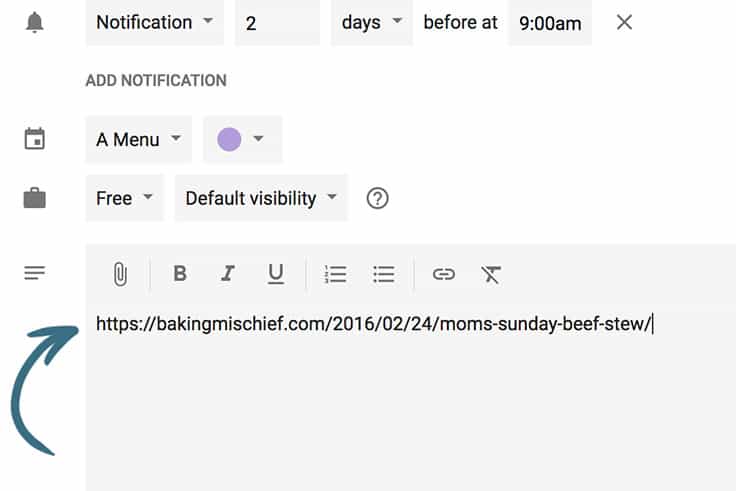 And for recipes later in the week that are going to use meat or other ingredients you've frozen, use the notification function to have Google remind you to take those ingredients out the freezer.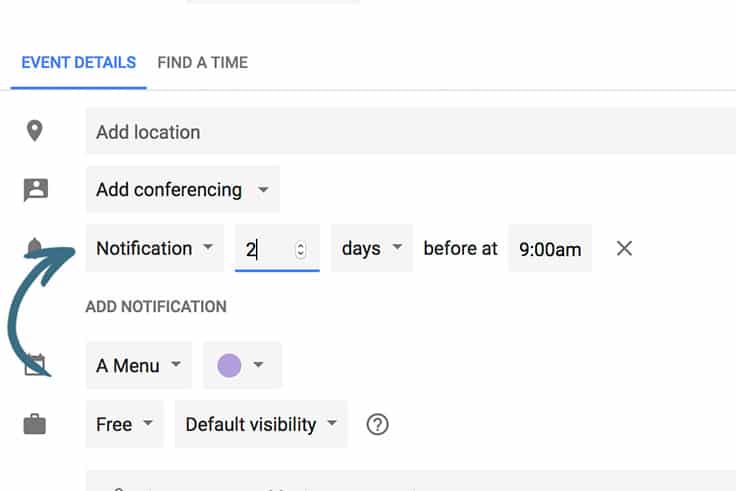 Once you've filled those out, your entry will look like this when you click on it.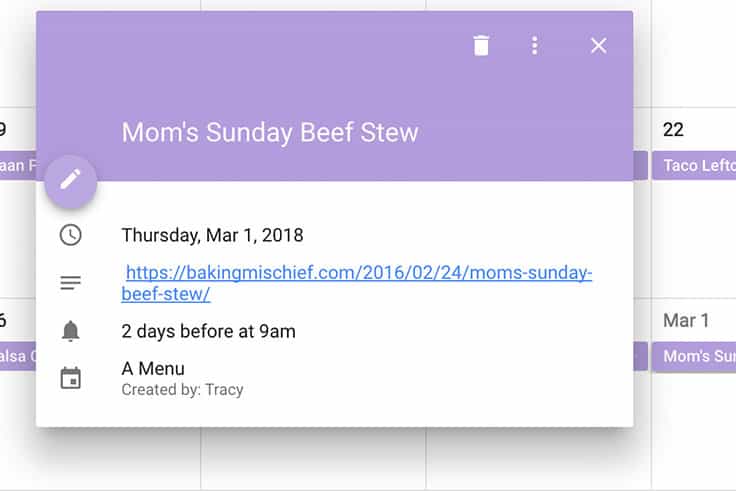 And that's it, you now have a week of meals planned out and recorded somewhere you and everyone in your household can always access.
Bonus Meal Planning Calendar Tips
If you share cooking duties, you can color code your entries so you know at a glance who is cooking. (Change entry colors in the "More Options" view next to the calendar selection.)
If you're the sort of person who uses your calendar as a journal of sorts, you can also add recipe reviews to the description field, so when you look back, you'll know how you felt about a certain recipe and any changes you might have wanted to try.
Aside from the aforementioned Salsa Chicken and Peasant Soup, some of the recipes that show up most often on my own meal plan include Tri-tip in the Oven, Butter and Garlic Green Beans, Ham and Potato Soup, Chicken Cacciatore, and chicken salads made with this Chicken Breast Recipe.
Tell me in the comments, do you meal plan? How do you keep track of your weekly menu?