40+ Egg Yolk Recipes to use up leftover egg yolks and instructions for storing egg yolks in the refrigerator.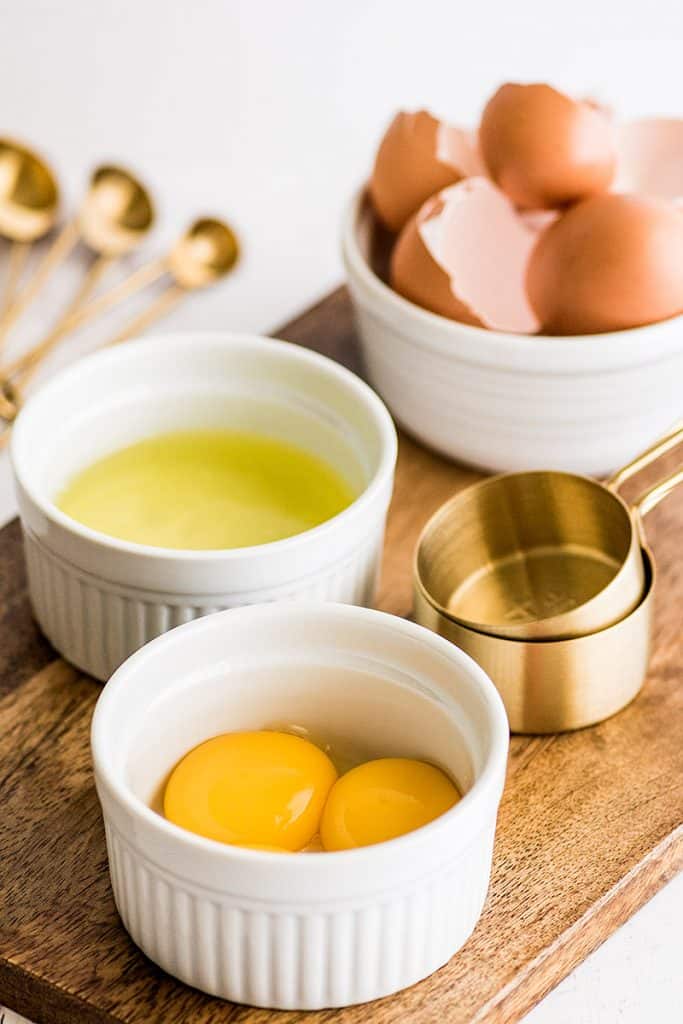 Welcome to the latest edition of "Waste Not," a series dedicated to reducing food waste in the kitchen. You can find older posts in this series for:
Last week, I wrote a "Waste Not" post for Egg Whites with 25+ Egg White Recipes for using up leftovers. Today, we're doing the flip side, What to Do With Leftover Egg Yolks.
Maybe you've made some Small-batch Cupcakes or Angel Food Cake and have some extra yolks sitting around. Here's what you should do with them…
What to Do With Egg Yolks
Storing Egg Yolks in the refrigerator
Egg yolks can be stored in the refrigerator in an airtight container. If the yolks are broken, use them as soon as possible as they will dry out quickly. For unbroken yolks, cover with a tablespoon or two of water to keep them from drying out and pour off water before using. Refrigerated egg yolks stored this way should keep for two to four days.
Freezing Egg Yolks
I don't generally recommend freezing egg yolks. They're finicky to store and don't keep as well as egg whites. You're usually better off just making a batch of egg yolk cookies and freezing the cookies instead. BUT, if you have a lot of egg yolks and want to give it a try, Eggs.ca has a good article on freezing yolks.
Don't feel like storing your yolks? Cook them into something good instead…
Egg Yolk Recipes
The following recipes all call for egg yolks. Some call for extra egg yolks in addition to whole eggs. Those recipes are written as (x extra yolks).
1 Egg Yolk
One Peanut Butter Cookie for Two
Small-batch Snickerdoodles
Small-batch Soft Pumpkin Cookies with Cream Cheese Frosting
One-bowl Small-batch Sugar Cookies (3 Ways)
One Chocolate Chip Cookie for Two (Three Ways)
Easy Shepherd's Pie With Ground Beef (Dinner for Two)
Chocolate Cookie Dough Cupcakes (Small-batch)
Small-batch Oatmeal Cookies with Icing
Small Batch of Cut-out Sugar Cookies (No-chill)
Small-batch M&M Cookies (No Chill)
Small-batch Peanut Butter Cookies
Small-batch Chocolate Chip Pumpkin Cookies
Small-batch Oreo Cupcakes
Small-batch Homemade Hostess Cupcakes
Small-batch Chocolate Cupcakes with Chocolate Buttercream
Small-batch Chocolate Mini M&M Cookies
No-chill Small-batch Chocolate Chip Cookies
Small-batch Chocolate Cinnamon Rolls With Espresso Glaze
Chocolate Souffles for Two With Creme Anglaise
Small-batch Gingerbread Cookies With Faux Royal Icing
Small-batch Giant Christmas Cookies
Easy Overnight Cinnamon Rolls for Two
2 to 3 Egg Yolks
(2 yolks) Dark Chocolate Pudding from She Loves Biscotti
(2 yolks) Gluten-free Chocolate Chip Cookies from My Gluten-free Kitchen
(2 yolks) Prize Winning Key Lime Pie Recipe from Souffle Bombay
(2 yolks) Lemon Curd from Beyond The Chicken Coop
(2 extra yolks) Small-batch Mini Pumpkin Eclairs
(3 yolks) Low Carb Egg Noodles from Low Carb Yum
(3 yolks) French Maple Buttercream from Cooking With Carlee
(3 extra yolks) Vegetarian Carbonara Recipe with Spaghetti from Umami Girl
(3 extra yolks) Whole 30 Eggs Benedict from The Organic Kitchen
(3 extra yolks) Eggs Benedict Quiche with Hollandaise Sauce from The View From Great Island
4+ Egg Yolks
(4 yolks) Pink Cream Puffs
(4 yolks) Dairy-Free Banana Pudding from My Sequined Life
(4 yolks) Game Of Thrones Ice Cream Recipe from Let's Eat Cake
(5 yolks) Dreamy and Decadent Chocolate Mousse from Christina's Cucina
(5 yolks) Homemade Chocolate Ice Cream from The Suburban Soapbox
(5 yolks) Lemon Pie from Live Well Bake Often
(6 yolks) Homemade Eggnog Pudding from Plating Pixels
(6 yolks) Dandelion & Honey Ice Cream from Practical Self-reliance
(6 yolks)  Maple Pots de Crème from Joyfully Mad
(10 yolks) Creamy Leche Flan Recipe from The Unlikely Baker
(10 yolks) Vanilla Creme Brûlée from The Suburban Soapbox 
(12 yolks) Vintage Gold Cake from Cooking With Carlee