These easy short ribs are fall-off-the-bone tender, decadently rich, and such a show stopper.
Hey, friends. I have another rib recipe for you today, AMAZING, easy braised short ribs.
After my Oven-baked Beef Ribs and Country-style Pork Ribs, these are the ribs I get asked about making most often, and honestly, that makes me so happy, because these ribs are kind of the best things ever.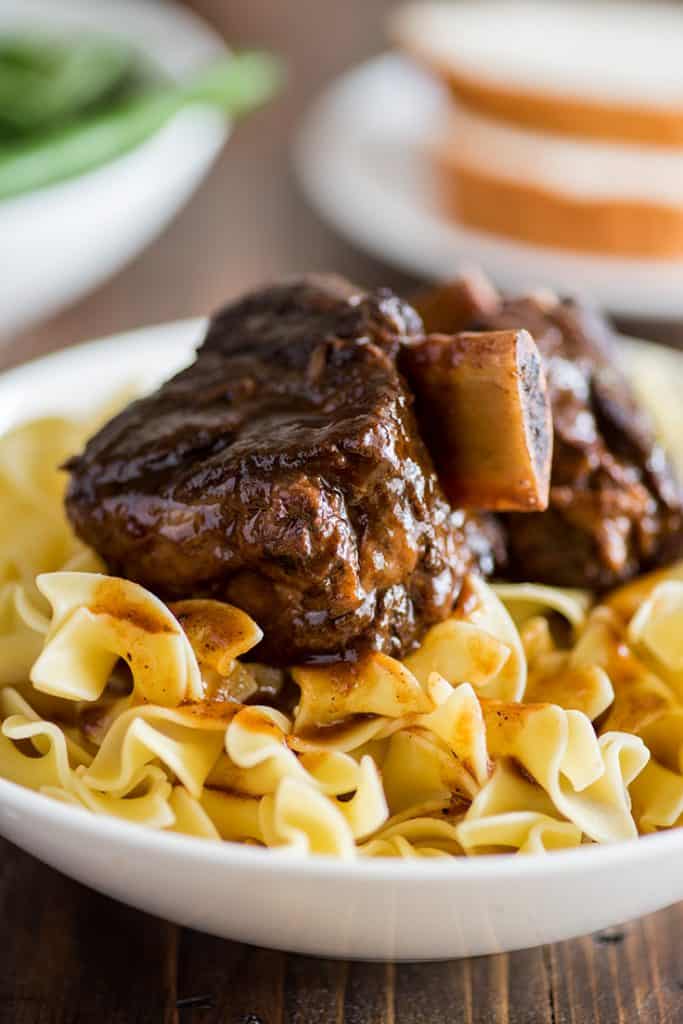 Properly cooked short ribs are fall-off-the-bone tender, decadently rich, and such a show stopper. They'll make your house smell amazing while they cook, and if you need a meal to impress, braised short ribs are perfect for guests because they're actually pretty difficult to screw up and are even better when made 24 hours in advance.
This is going to be a longer post than usual. Short ribs are very easy in that there are no difficult techniques you need to master to cook them, but they have a lot of steps, so I'm going to walk you through the cooking process with a few tips and tricks along the way.
If you are feeling confident and just want the printable recipe no prob. Scroll past the photos down to the recipe card for the quick and dirty instructions.
What are Short Ribs?
Short ribs come from the lower section of the rib, under the plate area. Unlike beef back ribs (your typical BBQ rib), which have meat in between long, curved bones, short ribs have a thick layer of meat over straight bones with a lovely marbling of fat throughout.
If you're curious, this is a really interesting video on how butchers cut short ribs.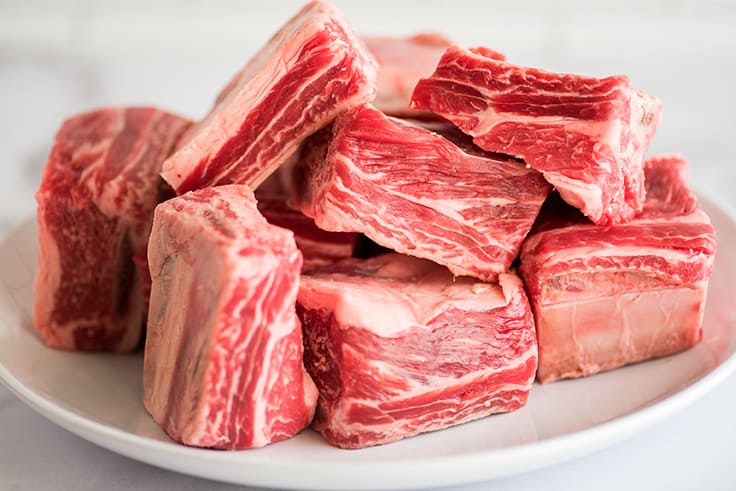 When short ribs are cut across the bone, they're called flanken-style ribs, but we'll be using English-cut short ribs today, ribs that have been cut in between the bones so there is only one bone per piece of meat.
If you have the choice, look for ribs that are 2 to 3 inches thick, with a good ratio of meat to fat. If you can get ribs that are all about the same size, that's ideal, but sometimes the packs that you buy at the grocery store can be pretty mixed, so it's not the end of the world if there's some variation.
Overnight Short Ribs
Short ribs are great candidates for making ahead. Their flavor only improves with time and refrigerating the ribs after cooking allows the fat in the dish (of which there is a lot) to solidify so you can scrape it off rather than trying to skim it off the top.
I included instructions in the recipe for same-day and overnight preparation, but given the choice, I recommend making these the day before you're ready to eat them.
Oven or on the Stovetop Recipe
These ribs can be made in the oven or on the stovetop. If you cook them on the stove, they'll need a little more babysitting because it's more difficult to keep them at just the right temperature, but stovetop or oven, your ribs will still come out great.

How to Cook Short Ribs
1. You'll start by browning salted and peppered ribs on all sides, which helps to deepen and intensify their flavor. It's going to take a little while to get them nicely browned, so be prepared to spend about 15 minutes on this step.
Bonus tip: Before you start browning your meat, make sure all of your other ingredients are cut and measured. This will make the rest of the steps much quicker and smoother.
2. After browning your meat, you'll pour off most of the fat, turn down the heat, and brown a couple of garlic halves. Make sure to watch your garlic closely at this point so you don't burn it.
Don't worry if your garlic doesn't cut as neatly as the head in this photo–garlic doesn't always cooperate. If your halves fall apart a bit, just do the best you can and toss the loose cloves in with the larger pieces. They'll be strained out at the end anyway.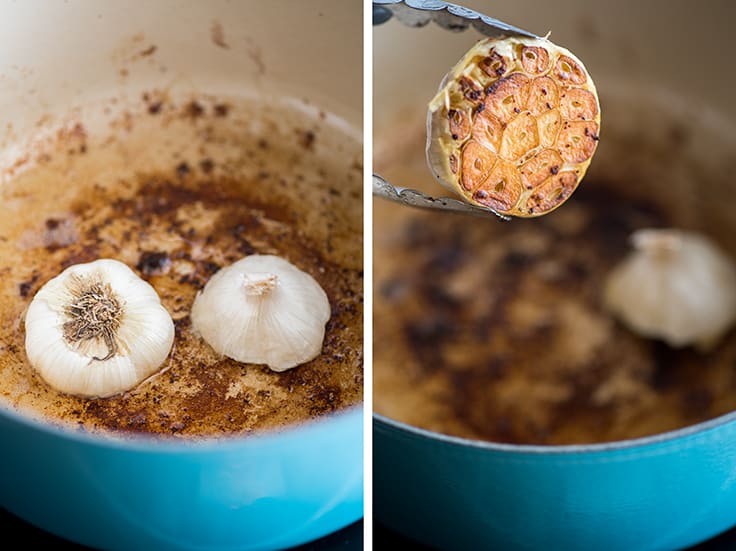 3. Next, in go the vegetables followed by the tomato paste and then about half a bottle of red wine followed by beef broth.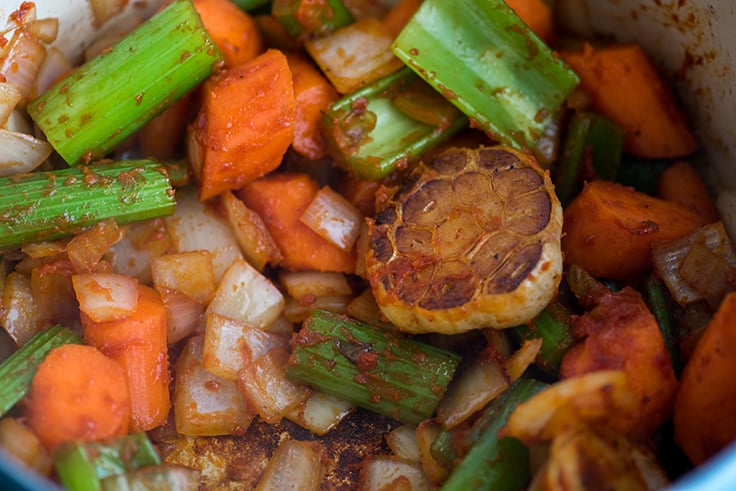 4. The ribs get returned to the pot and nestled in amongst the vegetables. Before you bring everything back to a simmer, arrange the ribs so that if any parts of them are sticking up out of the liquid, it's the bone. You want all the meat submerged so that it cooks completely.
Then it's time for the long slow braising process. These ribs will take about 3½ to 4 hours in the oven or on the stove. They're done when the meat is fall-apart tender.
At this point, you can serve the ribs or allow them to cool slightly on the counter before refrigerating overnight.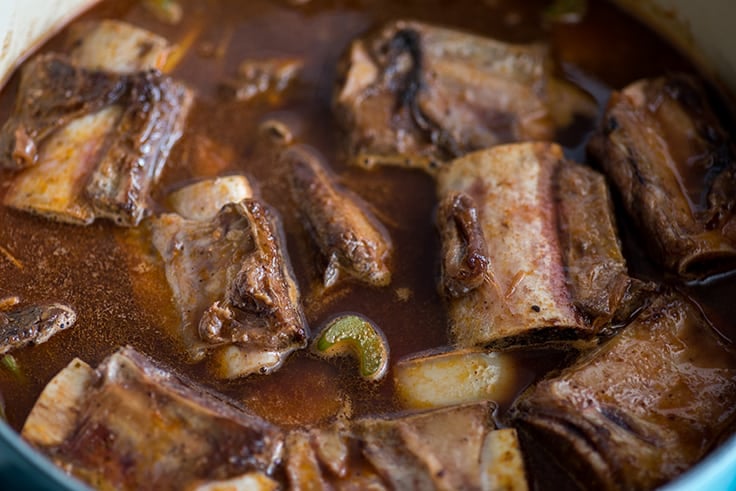 5. When you're ready to reheat the ribs, use a spoon to scrape the solidified fat off the top. Gross, I know, but oddly satisfying too. Reheat the ribs on the stove, discard the veggies (they're flavorless mush at this point), and strain the braising liquid to remove any small veggie bits.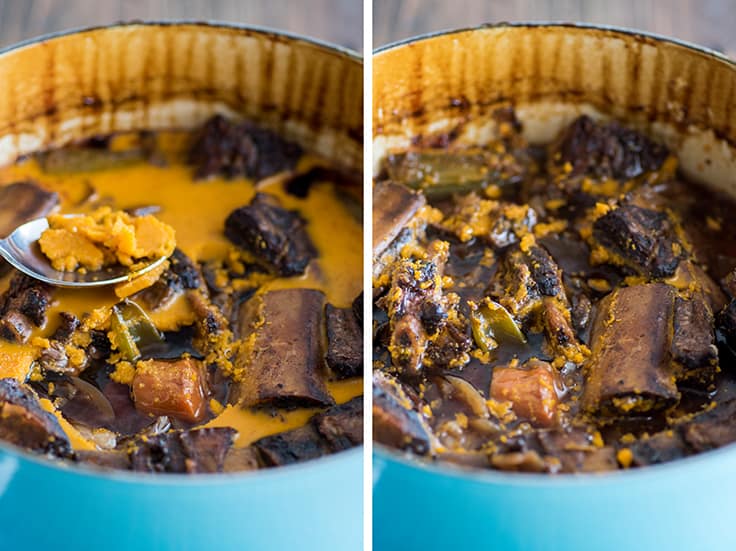 6. If you'd like a thicker sauce, you can bring it to a simmer and let it reduce while you make the rest of your dinner. Serve the ribs over egg noodles, mashed potatoes, or polenta and spoon sauce over the top.
And that's it. Enjoy!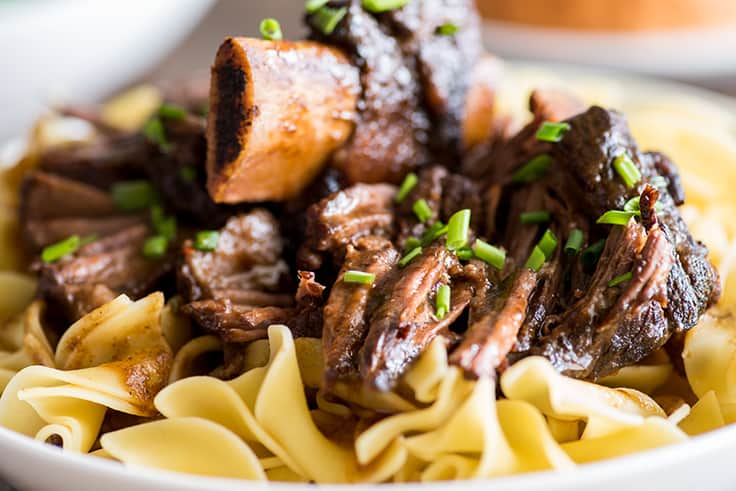 FAQ
What do you serve with short ribs?
Because they are so rich, I like to serve short ribs with crusty bread and a simple veggie side like:
Can you freeze leftover short ribs?
Yes! Short ribs freeze really nicely. I recommend removing the meat from the bones and freezing it along with some of the cooking liquid in a freezer bag for up to 3 months. When you're ready to eat the leftover short ribs, defrost overnight in the refrigerator and simply reheat in the microwave.
How many short ribs should you serve per person?
For serving, 2 large ribs or 3 smaller ribs per person is typically a good serving size.
Recipe Notes
As with carnitas, these ribs take a long time to cook between browning, braising, and reducing the liquid at the end. If you plan on eating them the same day you're going to cook them, start cooking early and give them PLENTY of time.
Have some leftovers? Try Short Rib Mac & Cheese.
More Favorite Recipes for Guests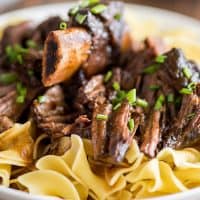 Easy Short Ribs Recipe
These easy short ribs are fall-off-the-bone tender, decadently rich, and such a show stopper. 
Print
Pin
Servings (Hover or Click to Change Yield):
4
to 6 servings
Ingredients
Short Ribs
2

tablespoons

vegetable oil

3 to 5

pounds

bone-in short ribs

ideally, 2 to 3 inches thick

Salt and pepper

1

head garlic

sliced in half horizontally

1

medium onion

roughly chopped

4

celery ribs

roughly chopped

2

medium carrots

peeled and roughly chopped

3

tablespoons

(

50g

) tomato paste

2

cups

dry red wine

*

2

cups

beef broth

plus more if needed

¾

teaspoon

ground thyme

or

4

sprigs fresh thyme
Serve Over
Egg noodles, polenta, or mashed potatoes
Instructions
Cut vegetables and measure out your ingredients before you begin. Once you start cooking, there isn't much downtime to prep other ingredients.

If making in the oven, preheat your oven to 275°F and adjust your baking racks so your Dutch oven will fit.

Generously salt and pepper short ribs on all sides.

In a large Dutch oven, heat oil over medium-high heat. In batches, if necessary, deeply brown ribs on all sides. This may take 15 minutes or more.

Transfer ribs to a plate and pour off all but about 2 tablespoons of the fat (it doesn't need to be precise).

Turn heat down to medium and return pan to heat. Add garlic halves, cut-side down, and cook until deeply golden but not burned (watch garlic closely!), 1 to 2 minutes.

Add the onions, carrots, and celery, and stir. Cook, stirring occasionally for 5 minutes, until the very edges of the onions are starting to turn translucent.

Add tomato paste and stir to coat the veggies. Cook for about 3 minutes, until the tomato paste begins to caramelize and stick to the bottom of the pot.

Pour in red wine and bring to a simmer. Use a wooden spoon to scrape any remaining browned bits from the bottom of the pot. Simmer for 2 minutes.

Add the beef broth and thyme, and stir.

Return the ribs to the pot, bone-side up, and press them down so they are completely submerged. If any meat is sticking up out of the liquid (bone is fine), add just enough broth to cover.

Bring the liquid to a simmer over medium-high heat.

If making in the oven, cover pot and transfer it to the oven. If making on the stove, reduce heat so liquid is just barely at a simmer before covering the pot.

Cook (in the oven or on stovetop) for 3½ to 4 hours, checking occasionally to make sure meat is completely submerged and braising liquid is just barely simmering. Short ribs are done when meat is very tender and can be easily pulled apart with a fork.

If serving immediately, skim fat off the top and skip to step 18. If making in advance, refrigerate overnight or until ready to serve.

About 40 minutes before you are ready to eat, take ribs out of the refrigerator and use a large metal spoon to scrape solid fat off as best you can. Don't worry if you can't get every single bit.

Heat over medium heat and bring to a simmer. If necessary, move meat around so all the meaty bits are submerged. Once at a simmer, cover and cook until meat is heated through, about 5 to 10 minutes.

Set water on the stove to boil for egg noodles or begin prepping your mashed potatoes.

Transfer meat to a plate and top with foil to keep warm. Remove and discard the majority of the vegetables with a slotted spoon. Strain the liquid through a fine-mesh strainer into a large bowl or measuring cup.

Rinse out the pot and return the strained liquid to the pot. Simmer while your pasta/potatoes cook to reduce the liquid slightly.

Return meat to the pot for the last minute or two of cooking time to reheat.

Serve ribs over egg noodles or mashed potatoes and spoon sauce over the top. Enjoy!
Notes
*I like to use Cabernet Sauvignon.
Recipe Adapted From The New York Times
This post may contain affiliate links, which means I receive a small commission if you make a purchase using them. There is absolutely no additional cost to you.