Frozen Hot Chocolate is the perfect icy and refreshing warm-weather treat and can be made with just five ingredients and five minutes.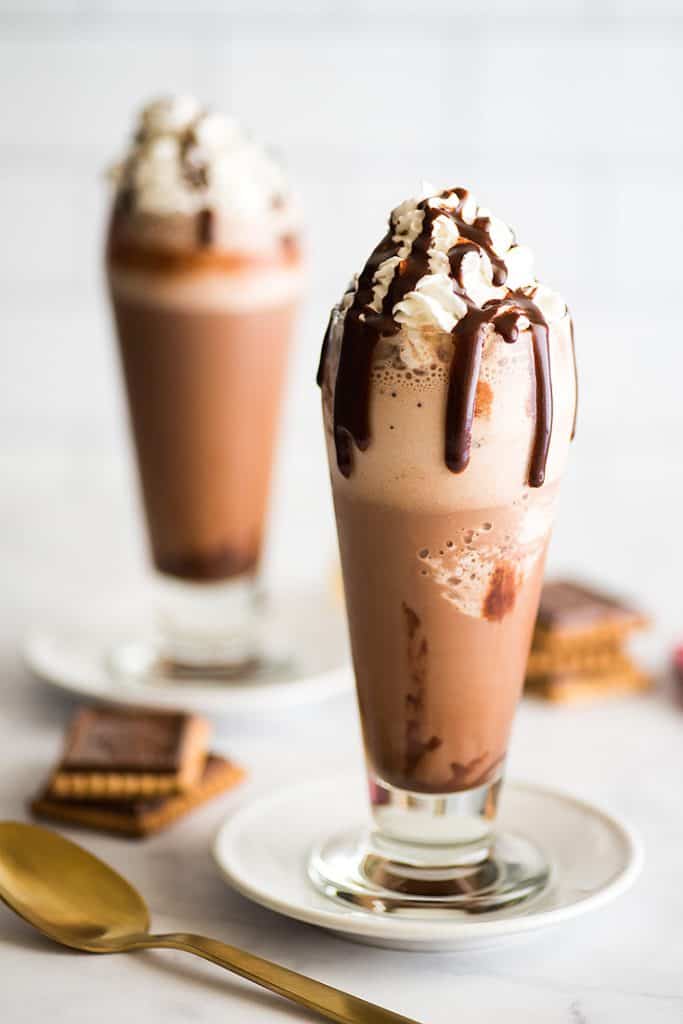 So, I was looking back at the recipes I've published this summer, and I realized that despite sweet and frosty drinks being one of the only things I like about this miserable season, I didn't post a recipe for a single one.
(Okay, I did publish TWO different recipes for Strawberry Milk (big and small-batch), but do those really count as frosty?)
Anyways, let's fix that while there's still a tiny bit of summer left.
Who wants some Frozen Hot Chocolate!?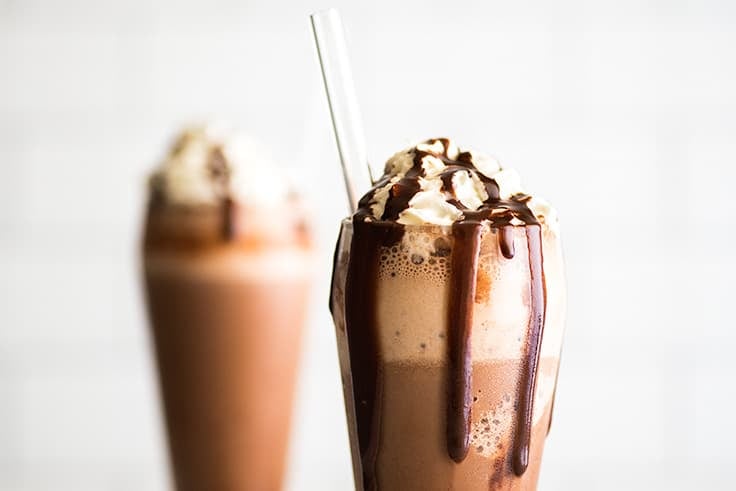 If you've never made it before, Frozen Hot Chocolate is super simple to throw together at home. It's just hot chocolate ingredients blended with ice.
(You could also technically call it frozen chocolate milk since chocolate milk is just cold hot chocolate, but that name's not nearly as catchy.)
In taste and texture, Frozen Hot Chocolate falls somewhere between chocolate milk and a chocolate milkshake. It's thicker and icier (obviously) than chocolate milk, but not quite as rich and nowhere near as calorie-laden as a milkshake.
In my mind, it's the perfect summer treat. Icy and refreshing, but not so heavy you want to take a nap afterward.
How to make Frozen Hot Chocolate
Some frozen hot chocolate recipes start with hot chocolate mix, and you can do that if you want, but it's just as simple to make from scratch. You just need cocoa powder, sugar, water, milk, and ice.
Make a lukewarm cup of hot chocolate, and then just pour that into your blender with more milk and ice and blend till frosty.
A high-powered blender's going to give you the best blended consistency (I used a Vitamix for the drinks you see in the photos), but any old blender will get the job done.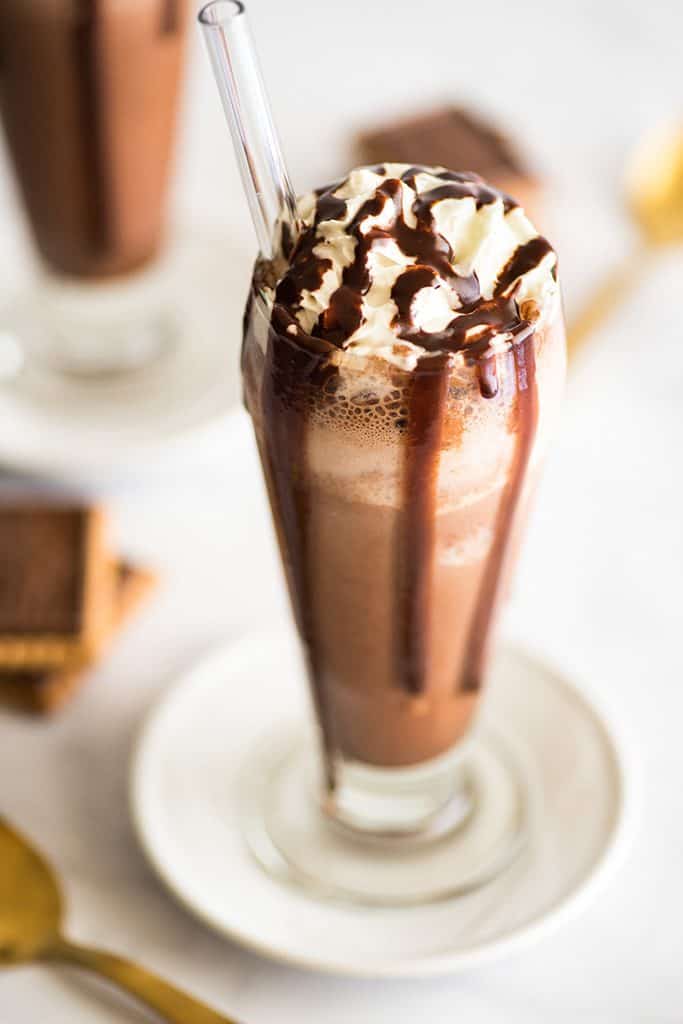 Then top with whipped cream and fudge sauce if you'd like. I've included instructions for a quick fudge sauce along with the Frozen Hot Chocolate recipe (Peanut Butter Sauce or Nutella Sauce would also be killer), but toppings are totally optional.
It's just fun to eat the sauce-covered whipped cream when you get down to the bottom of your glass. 😉
More Frosty Summer Drinks
Frozen Hot Chocolate Recipe Notes
This recipe will make two very generous servings, slightly more than enough to fill two 16-ounce mason jars, or three to four smaller cups.
As written, this recipe's not too sweet. If you like your frozen drinks really sweet, add a bit more sugar.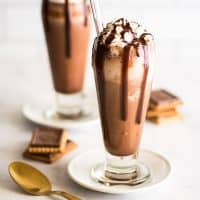 Frozen Hot Chocolate
Frozen Hot Chocolate is the perfect icy and refreshing warm-weather treat and can be made with just five ingredients and five minutes.
Print
Pin
Servings (Hover or Click to Change Yield):
2
to 4 servings
Ingredients
Fudge Sauce
2

tablespoons

(

25g

) granulated sugar

1

heaping tablespoon (

8g

) cocoa powder

1

tablespoon

(

14g

) butter

2

tablespoons

milk, half and half, or heavy cream

1/8

teaspoon

vanilla

optional
Frozen Hot Chocolate
1/4

cup

and

1

tablespoon (

63g

) granulated sugar

*

3

tablespoons

(

15g

) cocoa powder

1/4

cup

filtered water

2

cups

milk

any percentage, divided

3

cups

ice

or

2 1/2

cups crushed ice*
Whipped cream

optional
Instructions
Fudge Sauce
In a small bowl, stir together the sugar and cocoa powder and set aside.

In a 1-quart saucepan, melt butter over medium heat. Whisk in milk. Add cocoa and sugar mixture and whisk until smooth. Continue to whisk continuously, until mixture begins to bubble.

Remove from heat and stir in vanilla (if desired). Allow to sit and thicken while you make your frozen hot chocolate.
Frozen Hot Chocolate
In a small bowl, stir together sugar and cocoa powder, making sure to mix well and crush any cocoa powder lumps.

In a 16-ounce mason jar or large, microwave-safe mug, microwave water for 30 seconds to 1 minute, until steaming. Stir in cocoa powder and sugar mixture until smooth. Stir in

1

cup of the milk.

Combine ice, cocoa and milk mixture, and remaining

1

cup of milk in your blender and blend on high until smooth.

Divide frozen hot chocolate between glasses, top with optional whipped cream and chocolate syrup. Serve and enjoy!
Notes
Approximate nutritional information is for three servings and was calculated using 2% milk. Does not include whipped cream.
*Add an extra heaping tablespoon or two of sugar if you prefer your frosty drinks on the sweeter side.
*If using an underpowered blender, use crushed ice if possible as it will be easier for your blender to process. 
This post may contain affiliate links, which means I receive a small commission if you make a purchase using them. There is absolutely no additional cost to you.