Saturday Morning Snapshot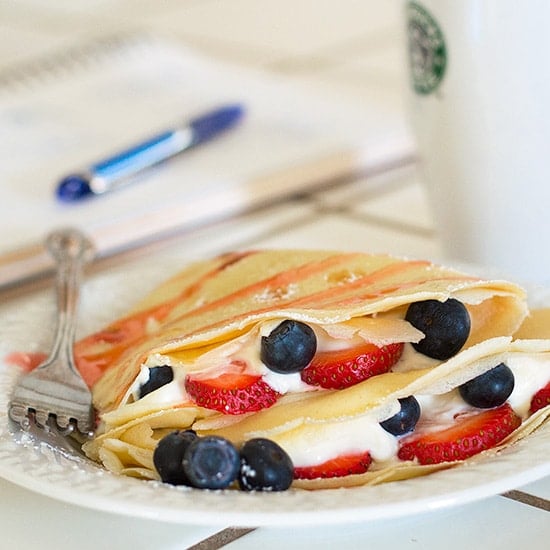 Made crepes for the first time today! They were somehow both more and less difficult than I had anticipated, but so good.
State of the Blog
How was everyone's week? Mine was preeeeety great because I was gifted a kitchen torch and have spent every day since dreaming of all the delightful foods I can set alight with it. Do you have any handy kitchen gadgets you love? I haven't been this excited about one since I got my first immersion blender.
On the blog, we continue to make our way through Nerd Month. If you don't know what Nerd Month is, you can read about it in my (Person of Interest) Sencha Green Tea Doughnuts post. This week we had a recipe from American Gods, and then a mimosa and rib recipe combo for Wednesday and Friday from the dearly departed Happy Endings.
Fun story about that photo shoot, I shot those ribs and mimosas the same day as my Jello Shots with Triple Sec Whipped Cream, so my total consumption of food that day ended up being ribs, mimosas, and the boozed-up whipped cream from like five of those jello shots. It was delightful day. 😉
Next week, there's an easy side dish, a classic breakfast recipe with added bacon, and then we'll end Nerd month with a final boozy treat. I can't wait for you to see it!
Recipes/posts released this week were: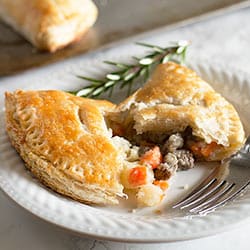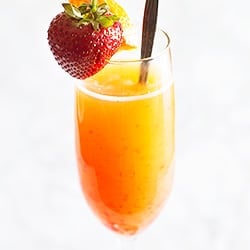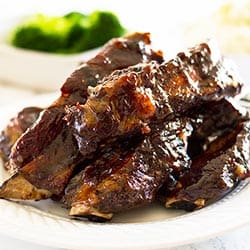 Easy Beef Pasties – Buttery, flaky buttermilk pie crust wrapped around a savory mixture of steak, carrots, potatoes, and onions, seasoned with oregano and rosemary, and cooked in an easy homemade gravy. These hand pies one of my favorite recipes to ever come out of my kitchen!
Strawberry Mimosas – Strawberry Mimosas make brunch even better with a simple but beautiful upgrade to your classic mimosa recipe.

No-Fuss Easy Oven-Baked Ribs – The easiest oven-baked beef rib recipe you'll ever find. All you need is two ingredients, one hour, and a whole lot of napkins.
Pop-culture Corner
It was TV Upfront week, when all the networks announce their fall schedules and release clips of their new shows. Did you watch any of the pilot trailers? Anything catch your fancy? I'm hoping there are some good ones in there to make up for last week's cancellation bloodbath.
Ewan McGregor is joining Fargo for season 3(!!), confirming my suspicion that no one in the world is better at their job than the Fargo casting director. So. Excited.
Preacher premieres this weekend! Are you going to be watching? Early reviews have been great, and I really enjoyed the quick read through I did of the first volume of the comics a few weeks ago, so it'll have my eyeballs.
Did you catch the new Star Trek Beyond trailer? What did you think? My reactions went: 1)Ah, look at all the people I like in this cast. 2)Shohreh Aghdashloo has the best voice for voice overs–she and Ben Whishaw can just narrate my dreams, please 3)Was that just Idris Elba? WHY DOES HOLLYWOOD KEEP MAKING OUR MOST TALENTED ACTORS ACT THROUGH 10,000 LAYERS OF PROSTHETICS!!?? Guys, I'm just really bitter. Between this and Oscar Isaac in X-Men: Apocalypse, there's a lot of handsome and charisma going to waste.
Does anyone watch Bob's Burgers? They had a horse camp episode last week and as a formerly horse-crazy little girl (now horse-owning grown up lady) I have never related to anything as much as I did to Tina desperately wanting a magical relationship with a camp horse and completely failing to get it (seriously, I have never known a creature less likely to want to be your friend than a summer camp horse).
Meal Planning
Saturday: Mom's Sunday Beef Stew
Sunday: Spaghetti
Monday: Rosemary Chicken and Potatoes
Tuesday: Light and Healthy BLT Salad
Wednesday: Easy Homemade Panini
Thursday: Zuppa
Friday: Leftovers