Pink Hot Chocolate is the cutest hot chocolate ever with homemade whipped cream you can make in a mason jar!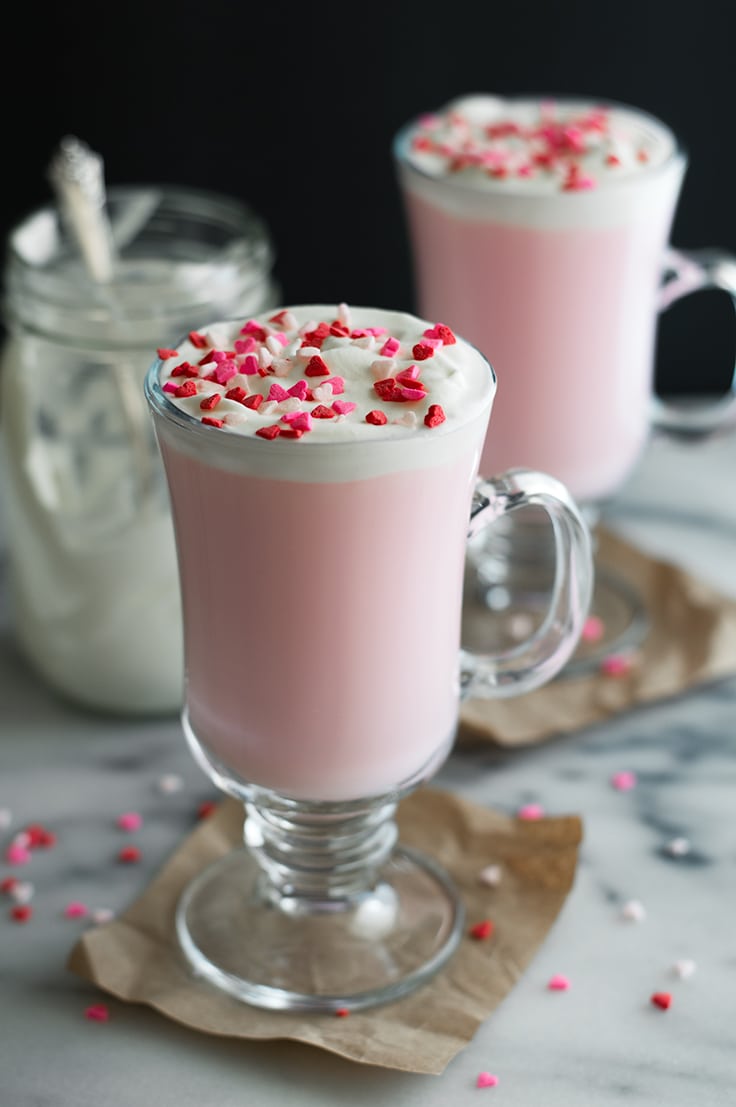 Photos have been updated. Don't worry. You're in the right place. 😉
Well, Valentine's Day is just a few days away. Where do you come down on our national hearts and flowers day? Love it? Hate it? Sort of tolerate it?
I'm totally split. On one hand, it's a holiday that places undue stress and expectations on people in and out of relationships. On the other hand, it's a day on which people give me flowers and candy, and it gives me an excuse to make things like Overnight Cinnamon Rolls for Two and maybe my Mini Chocolate Sheet Cake, soooo…
How ever you feel about the day, I have a super quick and easy Valentine's Day recipe for you that's too cute to resist: Pink Hot Chocolate with Mason Jar Whipped cream.
How delighted would partners, kids, roommates, Airbnb guests, whomever you are sharing your Valentine's Day with, be to come into the kitchen and find a cup of this stuff waiting for them?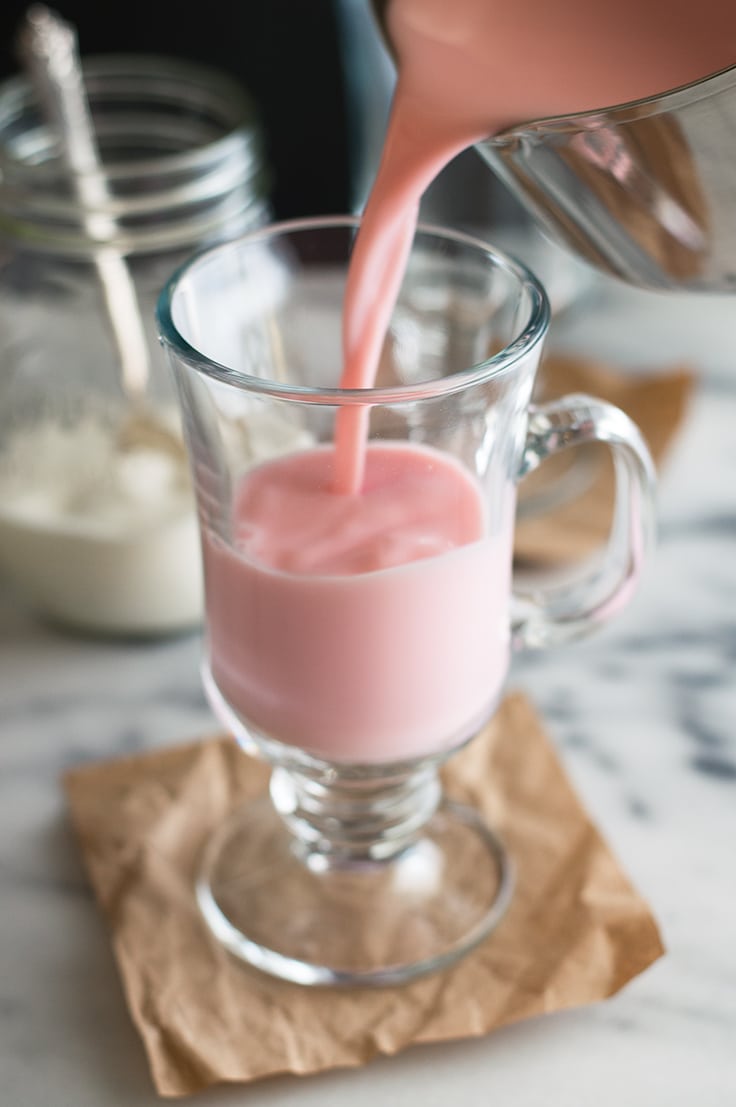 Making the Pink Hot Chocolate is so fast and easy and the whipped cream uses good old fashioned elbow grease, no mixer necessary. If you have a mason jar, a couple minutes, and a dream, you can make this.
Two notes on the recipe: make sure to use white chocolate you like the taste of by itself. It should go without saying, but this is what your hot chocolate will taste like. I used low-quality chips that I like fine in cookies but would never eat by the handful in one of my first test cups, and the resulting hot chocolate was so gross I nearly scrapped the entire recipe. For the next cup, I used higher quality chocolate and it was amazing. Good chocolate makes all the difference!
And on the whipped cream, depending on your altitude, type of cream, stamina of your shaking arm, the consistency of your finished product may vary from pipeable to spoonable. Either way, it's delicious! And if you want guaranteed stiff, pipeable whipped cream, you can always whip it the old fashioned way–with an electric mixer. 😉
More Hot Chocolate Recipes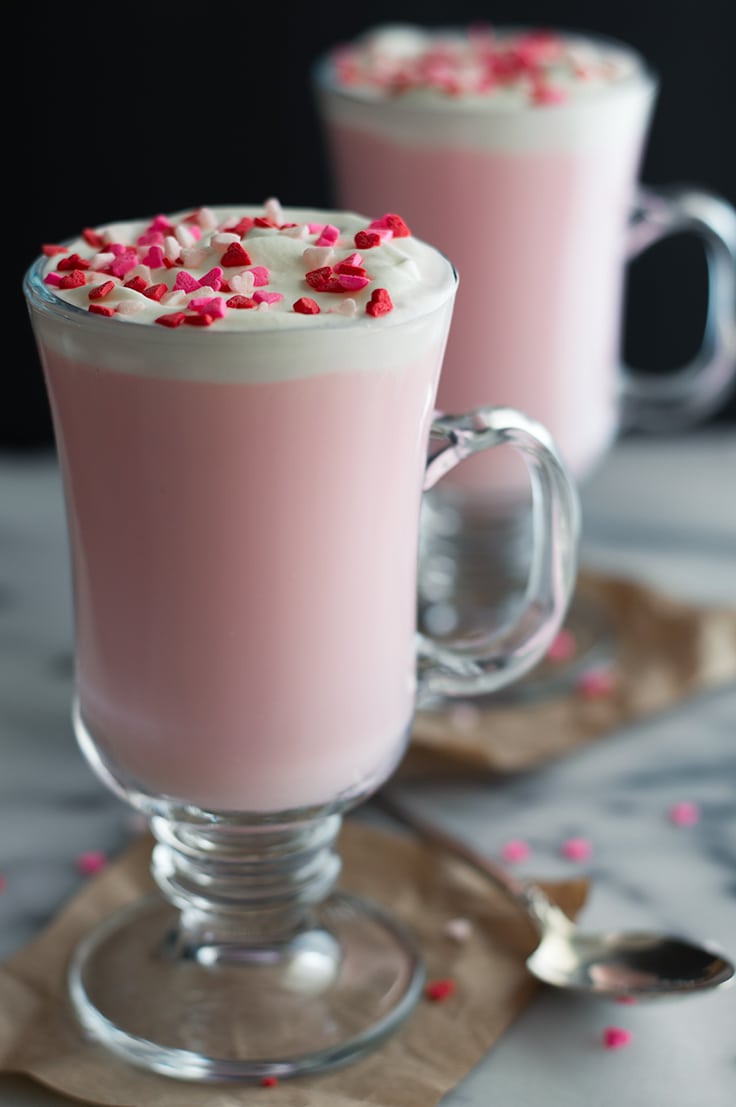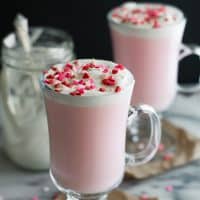 Pink Hot Chocolate with Mason Jar Whipped Cream
Pink Hot Chocolate is the cutest hot chocolate ever with homemade whipped cream you can make in a mason jar!
Print
Servings (Hover or Click to Change Yield):
2
Ingredients
Whipped Cream
Pint-sized mason jar with lid

1/4

cup

cold heavy cream

1 1/2

teaspoon

granulated sugar

Dash of vanilla

optional
Pink Hot Chocolate
2

cups

milk

4

oz

good-quality white chocolate

chopped

2-4

drops red food coloring

Sprinkles

optional
Instructions
Whipped Cream
Put your mason jar in the freezer for 15 minutes, so it is very cold.

Pour in cream, sugar, and vanilla.

Screw on lid and wrap the jar in a towel if it is too cold to hold. Shake vigorously until you no longer hear liquid sloshing inside, about 5-7 minutes. Check the consistency of your whipped cream before setting in the refrigerator while you make your hot chocolate.
Hot Chocolate
In a small saucepan, heat milk. Add chocolate and stir until completely dissolved and milk reaches desired temperature. Do not allow to boil. Remove from heat and stir in food coloring.
Assemble
Pour into cups, spoon on whipped cream, and top with sprinkles.

Enjoy!
Notes
To make whipped cream without a mason jar, simply add the cream, sugar, and optional vanilla to a medium-sized chilled bowl and beat by hand or with an electric hand mixer until soft peaks form. (This method isn't quite as fun, but it is undeniably faster. 😉 )
Nutritional Information
Whipped Cream Adapted From: Food Wishes
*Links marked with an asterisk are affiliate links, which means I receive a small commission if you make a purchase using them. There is absolutely no additional cost to you.
Old Photography, Circa 2016