This recipe for One Peanut Butter Cookie makes a 6-inch cookie that's the perfect size for sharing (or not) and is almost dangerously easy to make.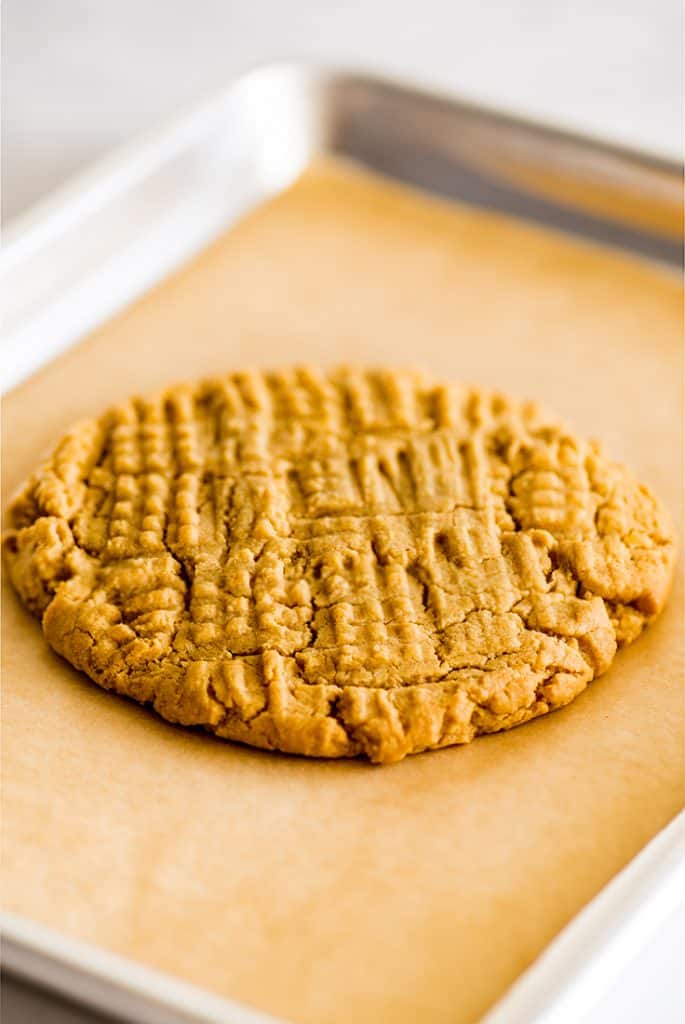 Feeling like your day could use a little peanut butter pick-me-up?
You could probably use a peanut butter cookie…a really big peanut butter cookie.
See Also: One Chocolate Chip Cookie for Two (Three Ways)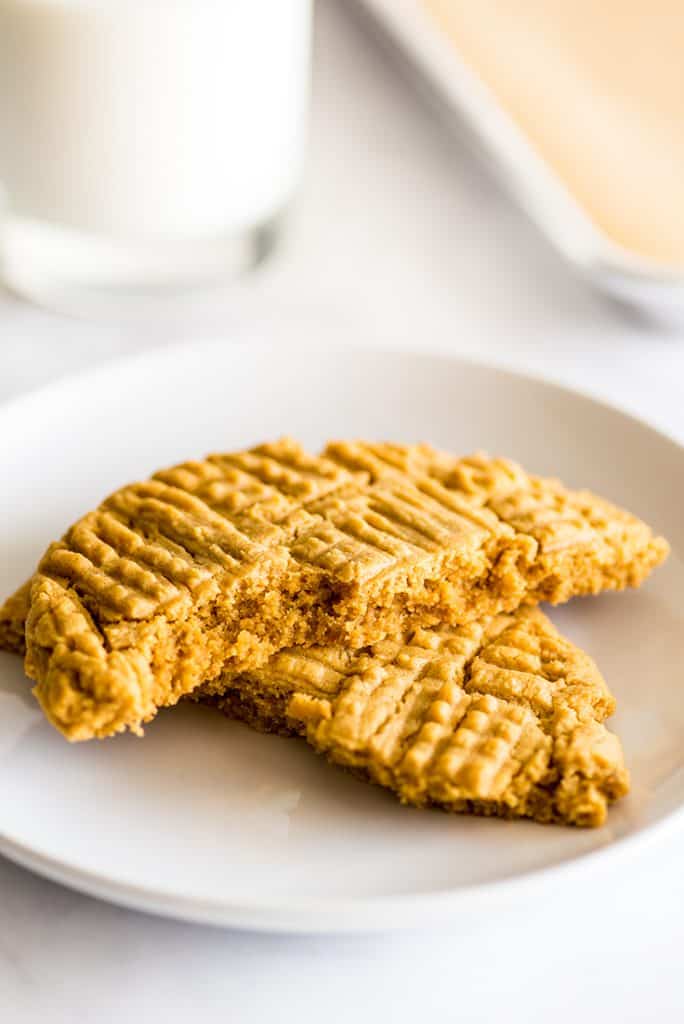 A Really Big Peanut Butter Cookie
At 6  to 7 inches across (about the size of your hand with fingers outstretched), this cookie's the perfect size for sharing (or not) and dangerously easy to make. You'll just need:
Peanut butter
Melted butter
One egg yolk
Standard cookie basics (flour, sugar, baking soda, etc.)
Since this recipe uses melted butter and you don't need to bring your egg yolk to room temperature, it takes next to no time to make. You can whip up the cookie dough and have it ready to go by the time your oven's done preheating.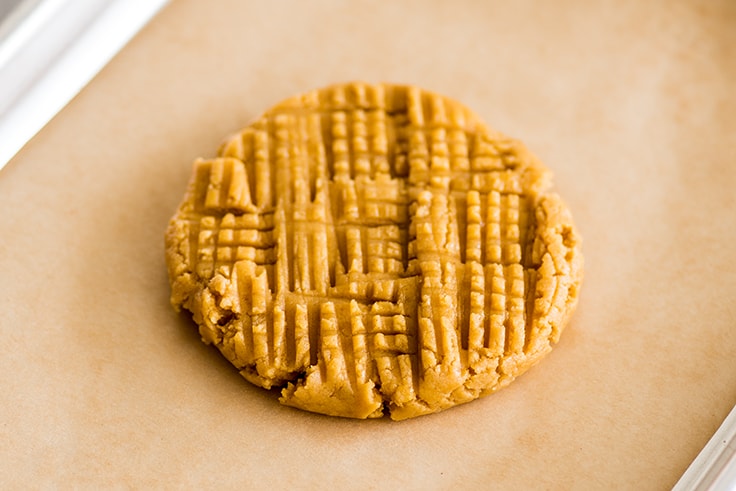 The finished cookie is dense and very peanut buttery. The texture is the ideal combo of crumbly and chewy with edges that are just a little crispy. (This is a mini version of these Small-batch Peanut Butter Cookies, so if you've tried and like those, you like this.)
If you love a softer, gooier peanut butter cookie, you can slightly underbake the dough, and if crunchy is more your style, adding a minute or two to the maximum cooking time will produce a crunchier cookie.
Cookie Trouble Shooting
Really small-batch cookies like these are much less forgiving than larger batches because you're working with such small amounts of ingredients. For best results, be sure to measure your flour by weight or using the spoon and sweep method as described in the recipe.
Occasionally, even when you do everything right, something will go wonky. This usually happens when you get a particularly large or small egg yolk, so you end up with dough that's too wet or too crumbly. If that happens, here are a couple troubleshooting tips:
Dough is too wet: This dough should be easy to handle and roll into a ball. If it is too sticky, add up to 1 and 1/2 tablespoons more flour, until you can handle the dough.
Dough is too dry/crumbly: If the dough won't come together, add milk by the half teaspoon, just enough so that everything comes together and there are no dry bits of flour at the bottom of the bowl.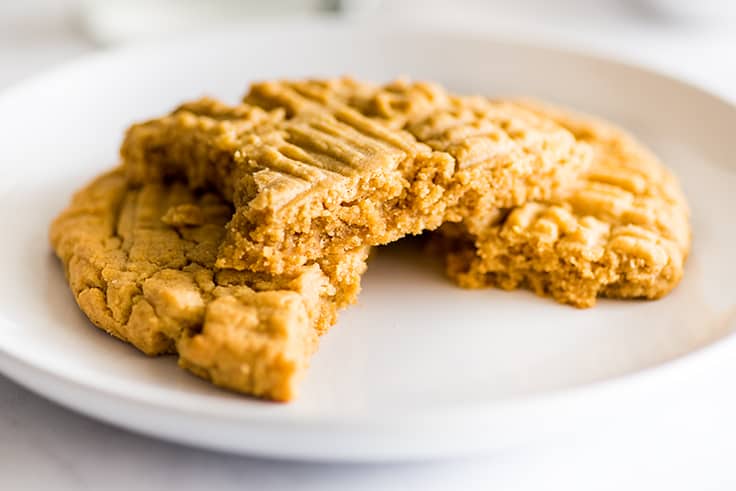 Peanut Butter Cookie Recipe Notes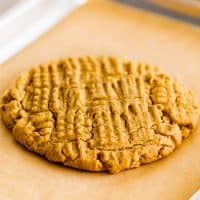 One Peanut Butter Cookie for Two
This recipe for One Peanut Butter Cookie makes a 6-inch cookie that's the perfect size for sharing (or not) and is almost dangerously easy to make.
Print
Pin
Servings (Hover or Click to Change Yield):
2
servings
Ingredients
3

tablespoons

(

50g

) peanut butter

(creamy or chunky, not natural peanut butter)

1

tablespoon

(

14g

) salted butter

melted

2

tablespoons

(

25g

) brown sugar

1

tablespoon

(

13g

) granulated sugar

1

large egg yolk

1/4

teaspoon

vanilla extract

1/4

cup

(

30g

) all-purpose flour

measured by weight or using the spoon and sweep method*

1/8

teaspoon

baking soda

Pinch

of salt

if using unsalted butter, use

1/8

teaspoon
Instructions
Preheat your oven to 350°F and line a baking sheet with parchment paper or silicone baking mat.

In a small bowl, whisk together peanut butter, melted butter, brown and granulated sugar, egg yolk, and vanilla until well-combined.

Add flour, baking soda, and salt, and use a spoon to stir until just combined.

Form cookie dough into a ball and place on prepared baking sheet. Use a fork to press crosshatch patterns over the dough until pressed to about 1/2-inch thick (the cookie will spread more as it bakes).

Bake for 12 to 14 minutes, until the edges of the cookie are just beginning to darken and the top looks set. Cool on the baking sheet for at least 10 minutes so the cookie has time to firm up. Serve and enjoy!
Notes
*Correct flour measurement is very important in this recipe. For best results, measure by weight or the Spoon and Sweep Method (stir the flour in your container to fluff it up and then spoon it into your measuring cup, sweep excess off with the flat of a knife).
The cookie will be very soft when it comes out of the oven. Be sure to allow time for it to cool and firm up on the baking sheet after baking.
This post may contain affiliate links, which means I receive a small commission if you make a purchase using them. There is absolutely no additional cost to you.