Rich and creamy, with a hint of chocolate flavor, this coffee milkshake makes the perfect sweet afternoon pick-me-up.
If you've ever sipped a mocha and thought I wonder what would happen if I added ice cream to this, one, I like the way you think, and two, today's recipe is for you.
Also, the answer to that question is magic. Magic is what happens with you mix ice cream and coffee. ❤️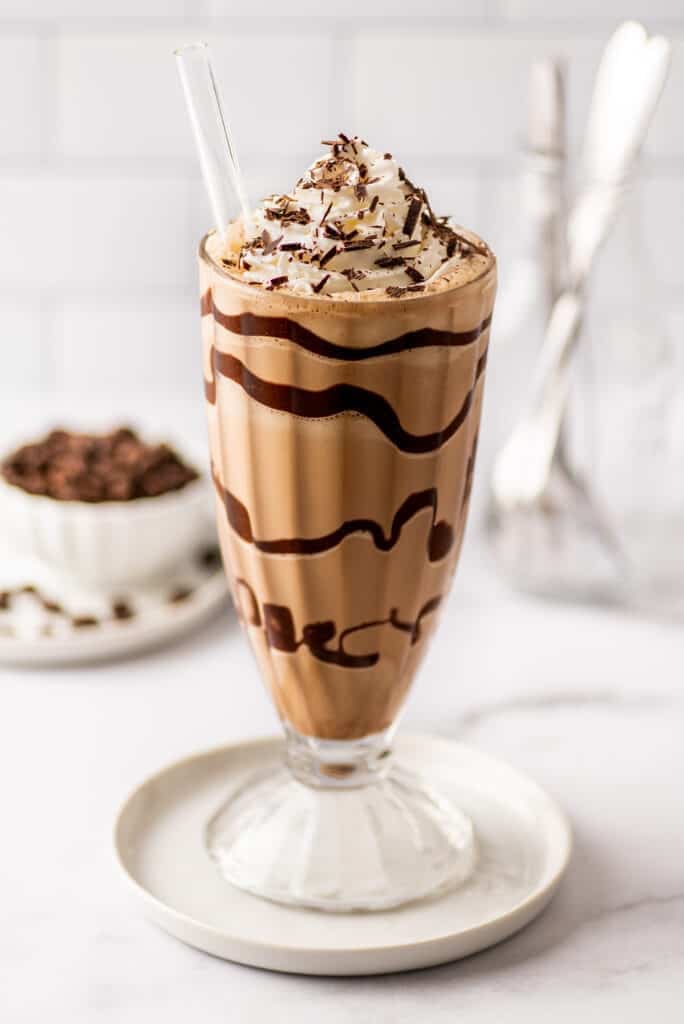 This coffee milkshake is all your sweet coffee dreams come true. It's thick and creamy with a rich coffee and chocolate flavor. Best of all, if you have some leftover coffee from this morning and some vanilla ice cream in your freezer, you could be sipping a coffee shake in about 5 minutes.
Ingredient Notes
Vanilla ice cream: Vanilla ice cream makes a good base for a coffee milkshake because it really lets the coffee flavor shine through, but you can use whatever ice cream you have on hand as long as the flavor pairs well with coffee.
Cold coffee OR instant coffee or espresso: This shake can be made with leftover cold coffee or instant coffee or espresso. Both versions are delicious, but I prefer using instant coffee because it gives you a really concentrated boost of coffee flavor.
Cocoa powder: A bit of cocoa powder gives the shake a subtle chocolate flavor that pairs so well with coffee.
Milk: You'll only need milk if you're making your milkshake with instant coffee/espresso (if you're using leftover coffee, you won't need any more liquid for the shake). Any percentage or type of milk will work. The higher fat milk you use, the richer/creamier your shake will be.
A Note on Coffee Temperature: This should go without saying, but don't try to make your shake with freshly brewed hot coffee. It will melt the ice cream too much. If starting with hot coffee, measure the amount needed for the recipe into a large cup or bowl and place it in the freezer for 10 to 20 minutes, until chilled. Then make your shake.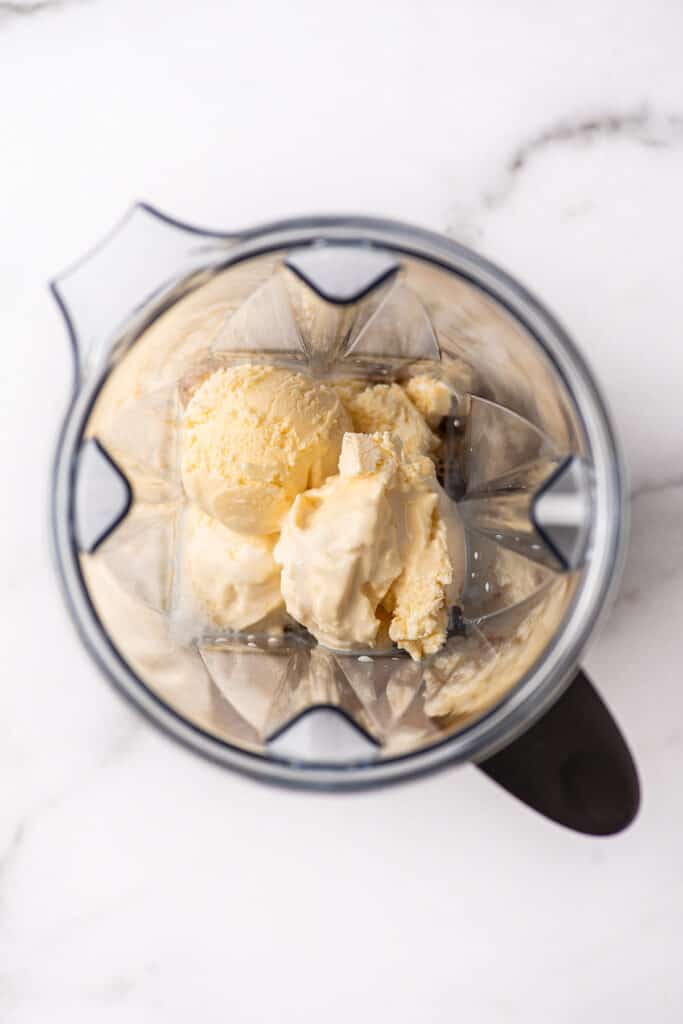 How to Make a Coffee Milkshake
Add all your ingredients to your blender. I like to add the dry ingredients first, followed by the milk and ice cream, so when you turn on your blender, they don't puff up and stick to the sides too badly.
If using an older or underpowered blender that sometimes struggles with shakes, let everything sit for about 10 minutes so the ice cream softens slightly. This will help it blend more easily without having to add extra liquid.
Blend until smooth, pour into a glass, top with whipped cream and fudge sauce if desired, and enjoy!
Milkshake Variations
Caramel coffee shake: Add 1 heaping tablespoon of caramel to the shake before blending. (This is seriously SOOOO good.)
Boozy coffee milkshake: Replace 2 tablespoons to ¼ cup of the milk or coffee with Kahlua, Irish cream, or your choice of alcohol.
FAQ
Can I make this shake ahead of time?
I don't recommend making your milkshake ahead of time. Shakes are always best right after they've been mixed. Even when stored in the refrigerator, they will slowly begin to melt and become less thick and frosty the longer they sit.
Can I make a milkshake without a blender?
Yes! It won't be as thick and creamy as a blended shake, but it will still be delicious.
To make your shake without a blender:
Scoop your ice cream into a large (quart-size works well) mason jar or other microwave-safe jar with a lid.
Microwave ice cream for just 15 to 30 seconds (without the lid) until softened but not fully melted.
Add the rest of the ingredients, screw on the lid, and shake until well-mixed.
Use a spoon to smoosh any stubborn remaining bits of ice cream, pour into a glass, and enjoy.
If you want to see a step-by-step walkthrough of this, go check out my How to Make a Milkshake Without a Blender post.

Can I make this with cold brew coffee?
Absolutely. Cold brew works great.
Is there caffeine in a coffee milkshake?
Yes. Unless you're using decaf coffee, your milkshake will be caffeinated.
More Coffee Recipes
More Milkshake Recipes
Recipe Notes
This recipe makes about a 12 to 16-ounce (1½ to 2-cup) milkshake, enough for one restaurant-size serving or two smaller ones
Coffee Milkshake
Rich and creamy, with a hint of chocolate flavor, this coffee milkshake makes the perfect sweet afternoon pick-me-up.
Print
Pin
Servings (Hover or Click to Change Yield):
1
to 2 servings
Ingredients
1

tablespoon

(

5g

) cocoa powder

1

teaspoon

to

1

tablespoon instant coffee or espresso powder*

optional

1 ½

cups

ice cream about

3

scoops

slightly softened

½ to ¾

cup

milk OR coffee

*

Whipped cream optional for topping

Fudge sauce

optional for drizzling

Chocolate shavings optional for topping
Instructions
Add cocoa powder and instant coffee or espresso granules (if using) to your blender. Add ice cream and milk or coffee.

Blend until mixture is well combined and pourable.

Pour into a glass (drizzled with fudge sauce if desired), top with optional whipped cream and chocolate shavings, and enjoy!
Notes
*This recipe can be made with instant coffee and milk OR you can use cold leftover coffee to flavor the shake. If using cold leftover coffee, do not use milk. The coffee provides all the liquid the shake needs.
*Use 1 teaspoon for a more mild coffee flavor, 1 tablespoon for a more intense one. (I like to use 1 tablespoon.)
*Use ½ cup milk/coffee for a thicker shake, up to ¾ cup for a thinner one.
Approximate nutritional information is for two milkshakes made with instant coffee and 2% milk.
This post may contain affiliate links, which means I receive a small commission if you make a purchase using them. There is absolutely no additional cost to you.