A Caramel Latte is one of the easiest sweet coffee recipes to make at home. All you need is 4 ingredients and about 5 minutes.
It's very nearly fall. And you know what that means. Time for sweet and warming coffee drinks!
Today's recipe is perfect for chilly fall mornings if you've already reached your Pumpkin Spice Latte quota for the year, a Caramel Latte.
Caramel lattes are one of the easiest sweet coffee recipes to make at home. All you need is caramel, coffee or espresso, a little sugar, and milk.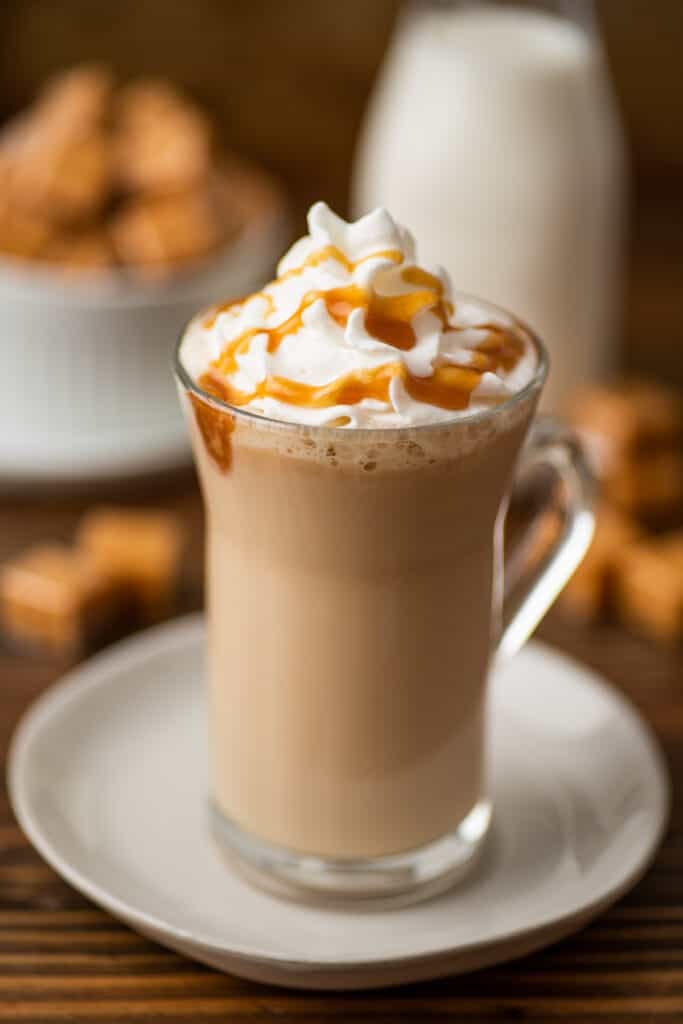 Ingredient Notes
Coffee: True lattes are made with espresso, but most people don't have espresso makers in their kitchen, so this recipe uses brewed coffee. You can use whatever coffee you have on hand, brewed strong for a more intense coffee flavor. If you'd like to use a shot of espresso instead of coffee, not a problem. Increase the milk in the recipe to 3/4 cup and replace the coffee with a shot of espresso.
Caramel sauce: Almost any caramel sauce will work in this recipe. If caramel sauce isn't something you keep stocked, pick some up the next time you're at the store or make my quick shortcut caramel sauce.
Milk: Starbucks uses 2% milk in their coffee drinks by default, but you can use any milk you'd like including non-dairy milks. The higher fat your milk, the creamier your drink will be.
Cream: If you don't keep cream on hand, you can leave it out, but I love adding a little splash for extra richness. Half and half also works well. You'll definitely have some leftover heavy cream, so check out my post What to Do With Leftover Whipping Cream for storage tips and recipe ideas for the leftovers.
Store-bought Caramel Alternatives
If you don't have any caramel sauce on hand, you have a couple make-at-home alternatives:
Shortcut Caramel: This recipe uses brown sugar, so it's not a classic caramel, but it's very quick and easy (and delicious).
Dulce de Leche: Have a can of condensed milk on hand and don't mind waiting a couple hours? Make some dulce de leche and use it in place of caramel to make a dulce de leche latte.
Caramel Sauce: And if you want a real, classic caramel, go ahead and give this recipe a try.
How to Make a Caramel Latte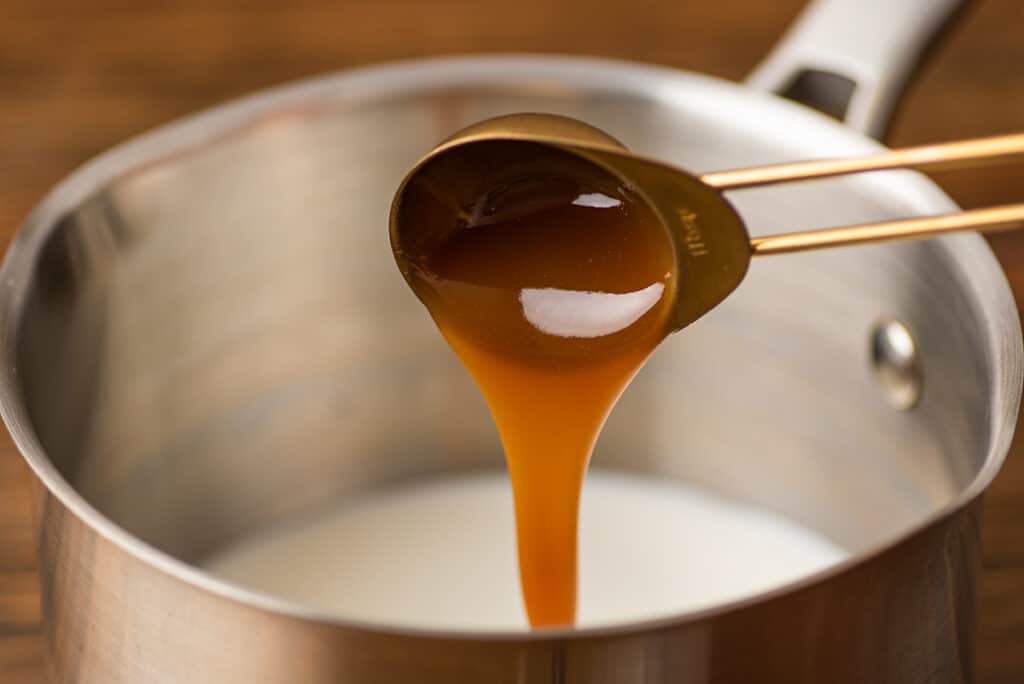 1. In a small pot (a butter warmer works well), combine milk, caramel, and sugar and heat over medium heat until milk is steaming and sugar and caramel are completely dissolved. Whisk vigorously until foamy or you can use a handheld milk frother if you have one.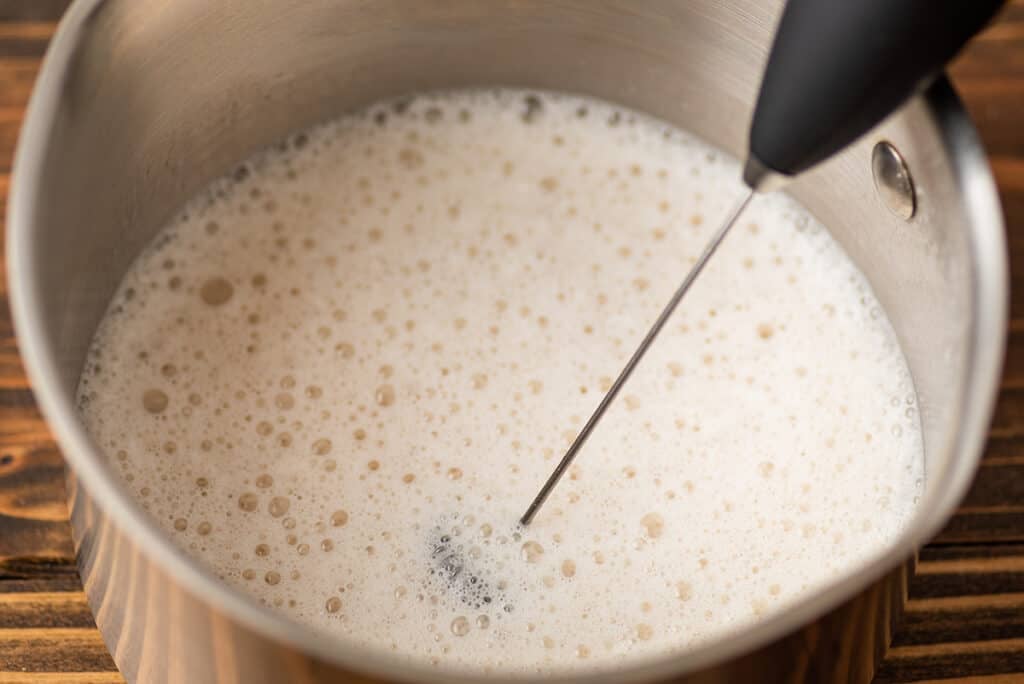 2. Pour 1/2 cup of strong coffee into an 8-ounce mug and then pour in the caramel mixture. Give a little stir, and taste. If it's not quite sweet enough, add a little more sugar. Then top with whipped cream and more caramel sauce if desired and enjoy!

FAQ
Can I make an iced version of this latte?
Absolutely. Go check out my Iced Caramel Latte recipe for detailed instructions (plus how to make it into a frappuccino). The ratios are all the same, but the preparation method is a little different.
Is there caffeine in a caramel latte?
Yes. A coffeehouse latte made with a single shot of espresso contains about 60-100mg of caffeine. This recipe has about 48mg.
Can I double this recipe?
Sure. This recipe doubles or triples with no preparation changes needed. To change the recipe yield, hover over the serving size in the recipe card below or click if you're on mobile, and slide the slider.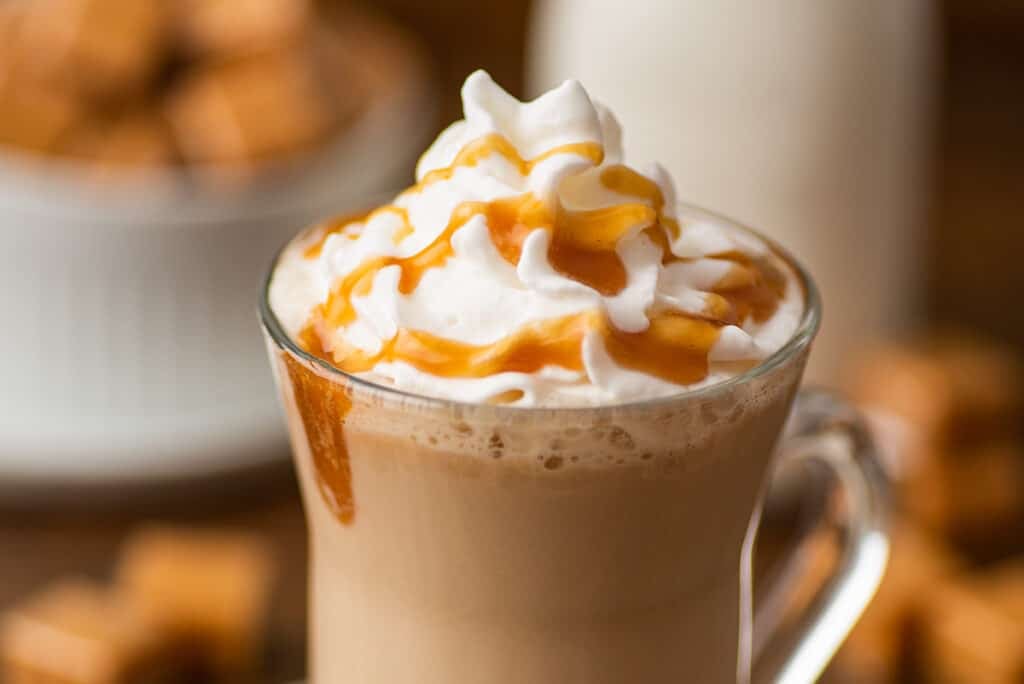 Can I make a caramel latte in the microwave?
You can! Heat your milk in the microwave until steaming and then stir in the caramel and sugar until they completely dissolve into the milk.
You can either add the coffee directly to the milk or pour your coffee into a separate mug, foam the milk and caramel mixture using a handheld milk frother, and pour the foamed milk over the coffee.
Looking for More Warming Recipes for Fall?
Recipe Notes
This recipe makes a 1-cup (8-ounce) latte. If you want to fill an oversized cup, 1 1/2 or double the recipe.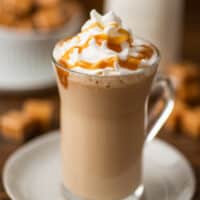 Easy Caramel Latte
A Caramel Latte is one of the easiest sweet coffee recipes to make at home. All you need is 4 ingredients and about 5 minutes.
Print
Pin
Servings (Hover or Click to Change Yield):
1
cup
Ingredients
½

cup

milk

any percentage

1

tablespoon

caramel

plus optional more for topping

1

teaspoon

(

4g

) granulated sugar

or to taste

1

tablespoon

heavy cream

optional

½

cup

strong coffee

Whipped cream

optional for topping
Instructions
In a small pot, over medium heat, combine milk, caramel, sugar, and optional heavy cream. Heat, whisking frequently until milk is just beginning to steam. If desired, whisk vigorously until milk is frothy.

Pour coffee into an 8-ounce mug, and stir in caramel mixture. Add more sugar to taste if needed. Top with optional whipped cream, and drizzle with more caramel if desired.

Serve and enjoy!
Notes
Approximate nutritional information was calculated using 2% milk and does not contain optional heavy cream or any toppings. 
This recipe makes a 1-cup (8-ounce) latte. If you want to fill an oversized cup, 1½ or double the recipe.
This post may contain affiliate links, which means I receive a small commission if you make a purchase using them. There is absolutely no additional cost to you.