More than a dozen rich and creamy hot chocolate recipes plus tips and tricks for customizing any hot chocolate recipe to make the drink of your dreams.
I firmly believe that there is a hot chocolate for every occasion (yes, even sweltering summer days can be hot chocolate days!).
Some days call for a quick and easy cup of classic hot chocolate. And some days you need something so rich and decadent you'll probably want to take a little nap afterwards.
Today I've gone back into the Baking Mischief archives and pulled together all of my hot chocolate recipes so no matter what sort of hot chocolate day it is for you, you can find just the recipe you're looking for.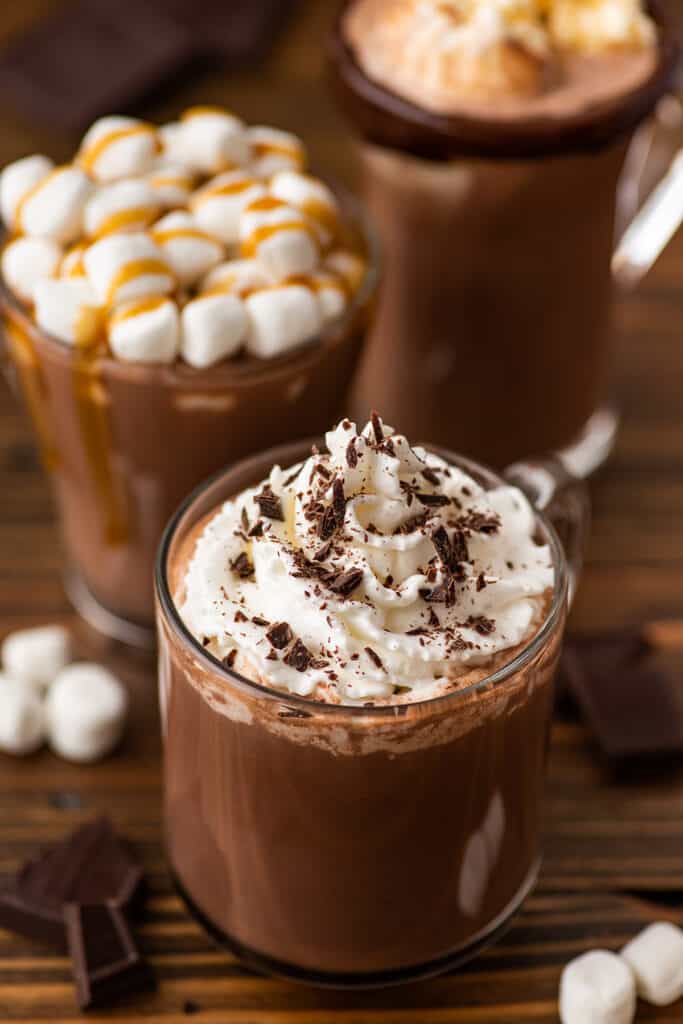 And before we get to the recipes, I want to give you a couple tips and tricks for customizing any hot chocolate so if one of the recipes here isn't the hot chocolate today calls for, you can still make the hot chocolate of your dreams.
How to Customize Any Hot Chocolate Recipe
Note: All of these customizations are for single servings. If modifying a larger batch, scale things up by the serving size.
For Richer Hot Chocolate
For a rich and creamy hot chocolate, use full-fat milk instead of non-fat or low-fat. For an indulgently rich drink, replace ⅓ cup of the milk with heavy cream or half and half.
For a More Intensely Chocolatey Flavor
Add 1 to 2 ounces (2 heaping tablespoons to ⅓ cup) of chopped semi-sweet or bittersweet chocolate (high-quality chips are fine). This will also make the drink sweeter, so if you prefer a less-sweet drink, cut the sugar by up to half.
Try Switching Cocoa Powder
You can use both natural and Dutch-process cocoa powder for hot cocoa, but the flavor they add is each slightly different.
Natural cocoa powder gives you a brighter, slightly acidic chocolate flavor while Dutch-process cocoa makes a darker-colored drink with a more robust chocolate punch. If your cocoa isn't giving you quite the flavor you're looking for, try swapping out the type you're using.
To Make Spiked Hot Chocolate
To make any hot chocolate boozy hot chocolate, simply make the hot chocolate recipe as written, and once you remove it from the heat, add the alcohol of your choice to taste (usually 1 to 2 ounces/2 tablespoons to ¼ cup).
Some good spiking options are: Baileys and other Irish cream liqueurs, Kahlua and other coffee liqueurs, flavored vodkas like marshmallow or whipped cream, and peppermint schnapps.
Have Fun With Your Toppings
Aside from the classic whipped cream and marshmallows, you can get really creative with your toppings. Try flavored whipped creams like peanut butter or chocolate whipped cream.
You can also finely chop chocolate or use a vegetable peeler down the side of a chocolate bar to make chocolate curls. Sprinkles or chopped candy or peanuts are also a delicious addition.
And for a real show-stopper of a hot chocolate, drizzle something delicious over the top like fudge sauce, caramel sauce, or even dulce de leche.
The Hot Chocolate Recipes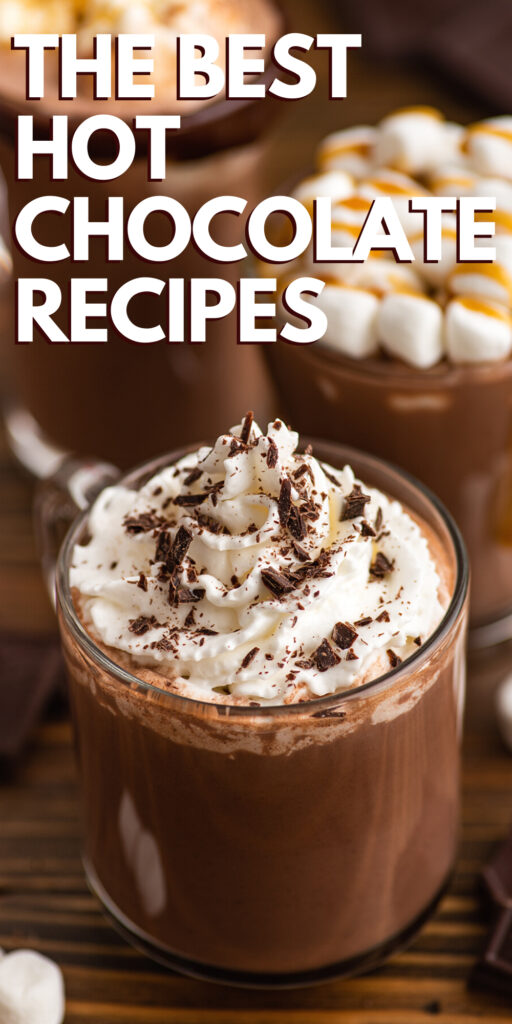 This post may contain affiliate links, which means I receive a small commission if you make a purchase using them. There is absolutely no additional cost to you.