A round-up of some of my favorite small-batch baking tools for all of your small-batch baking needs.
Hey, friends. As regular readers of the site might remember, I did a reader survey back in December and asked if there were any particular topics you'd like to see covered on Baking Mischief. Most popular request number one was for posts on meal planning (so I wrote How to Meal Plan and How to Meal Plan Using Google Calendar).
And most popular request number two was for a post on where I buy my small-batch baking tools. This one surprised me! I had no idea this was something so many of you had been wanting to know. But I'm more than happy to answer the question.
Where do I buy small-batch baking equipment?
Amazon.
It's almost always Amazon.
As much as I love me some cool vintage pieces and antique crockery, I try to do most of my baking for the blog with equipment you all have easy access to, and usually, that translates to Amazon.
I went through my baking posts (and some of my favorite personal recipes) and pulled together a list of my most-used tools so you can equip a small-batch kitchen of your own.
If you have any questions leave them below. You know I'm always happy to chat about small-batch baking.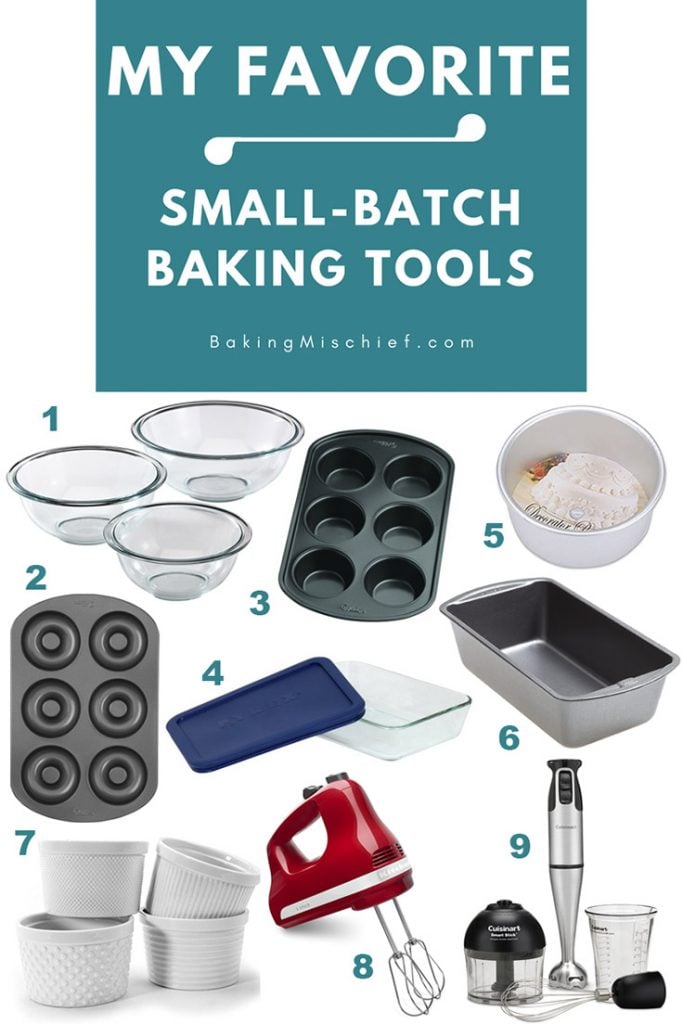 This post contains affiliate links, which means I receive a small commission if you make a purchase using them. There is absolutely no additional cost to you.
1. Pyrex Bowl Set // I use at least one of these bowls for every single baking recipe on the site. They are hardy, easy to clean, and between the three, you have the perfect size for almost any small-batch baking need. I've used them to melt chocolate for Chocolate Souffles, steam broccoli, and make way too many small-batch cookie batters to count.
2. Donut Pan // Because donuts. That's why. 😉
3. Six-cup Muffin Pan // You do not need a six-cup muffin pan. Small-batch muffins bake up just as well in a standard-size tin, but I LOVE having one. It takes up less counter space, feels like less of a pain to wash, and is just nice to use. When I'm baking a small batch of cupcakes or muffins, this is always the pan I reach for first. Favorites made in this pan include these Banana Muffins, these Vanilla Cupcakes, and these Hostess Cupcakes.
4. 7×5-inch Pyrex Dish // This is one of my very favorite small-batch baking tools because it's the perfect size for baking small cakes and bars AND comes with a lid so it doubles as storage. Even though I tend to use a stoneware dish for most photo shoots of recipes this size (sorry, I don't have a link for that container–it's from a now defunct company out of Portugal), if I'm baking for myself or recipe testing, these are the containers I'm using.
5. 6-inch Cake Pan // I'd consider a 6-inch cake pan essential for anyone who plans to do a lot of small-batch baking. I love making tiny cakes (like this Small Red Velvet Cake or my Small Banana Cake), so expect to see a couple more this size on the blog soon, and in the meantime, it's also the perfect size to make a Small Batch of Cinnamon Rolls.
6. 9×5-inch Loaf Pan // A 9×5 loaf is a little large to be considered small-batch, but a 9×5-inch loaf pan can be used for so much more than just bread. Like the 7×5-inch dishes, these are perfect for bars, especially Small-batch Brownies and the occasional batch of ice cream.
7. Ramekins 6 ounce and 12 ounce // Ramekins are such handy workhorses. They're great for recipe prep, souffles, and individual servings of things like Scalloped Potatoes, Mac and Cheese, and Chicken Pot Pies. Plus, they're just so darn cute that you'll want to have a cupboard full of them.
8. Handheld Electric Mixer // As much as I love my stand mixer, it's often just too large to effectively handle a small-batch recipe. Handheld models are 1/10th the price and powerful enough for all your small-batch needs, from whipping egg whites for Angel Food Cupcakes to beating together the perfect Small-batch Chocolate Frosting.
9. Immersion Blender // The great thing about immersion blenders is that they can do many of the jobs of your heavier, more powerful equipment with less fuss and way less cleanup. For the purposes of small-batch baking, the chopper attachment is absolutely perfect for replacing your food processor when it comes time to puree a bit of fruit or process oatmeal for cookies.
For more of my favorite kitchen tools, try my posts 8 Life-Changing Kitchen Tools and Small Luxuries for the Kitchen.