Pound Cake Cupcakes are a perfect excuse to eat cupcakes for breakfast. Light, buttery pound cake topped with the berries of your choice and smothered in a lot more than a dollop of homemade whipped cream.
Looking for more cupcake recipes? You might also like my Brooklyn Blackout Cupcakes, S'mores Cupcakes, and Small-batch Vanilla Cupcakes!
There's a great local brunch buffet place in my home town. A few years ago, they started serving cupcakes alongside their waffles and pancakes. Not pastries or glazed muffins, full on chocolate and vanilla buttercream cupcakes like you'd eat at a birthday party.
It offended me greatly at the time for reasons still I cannot name (though it doesn't stop me from eating a bite of one every time), so it is hilarious (and the height of hypocrisy) that today, February 29, in the year of our Lord 2016, I'm posting a recipe called "Cupcakes for Breakfast."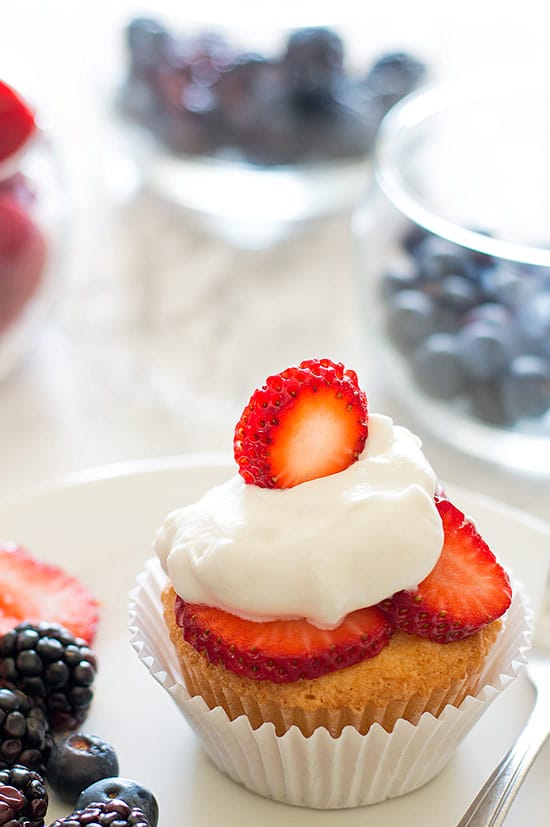 To be fair, I feel like fruit and whipped cream over pound cake cupcakes is a little more breakfast appropriate than chocolate cupcakes with sprinkles, but to each his own. And you don't have to eat these for breakfast. They are delicious any time of day, but when I was thinking about situations in which I'd serve them, aside from sun-drenched afternoon tea parties, all roads kept leading back to brunch.
And what a brunch that would be. These cupcakes are a real treat. Soft, with a dense crumb on the inside and ever so slightly crisp on the outside. When you add the sweet tartness of the berries and the richness of the whipped cream, you'll know you are starting your day off right.
See Also: Small-batch Lemon Pound Cake
I usually like to post sweet recipes on Fridays, but this recipe is being posted on a Monday because we are going to be using these pound cake cupcakes a couple times over the next few weeks as part of a four-recipe cupcake series that starts on Friday. Keep an eye open for that first post, I'm excited for you to see it! (Update: Those posts are now all live! Go check out my Tagalong Cupcakes and Samoa Cupcakes which both use these pound cake cupcakes as a base.)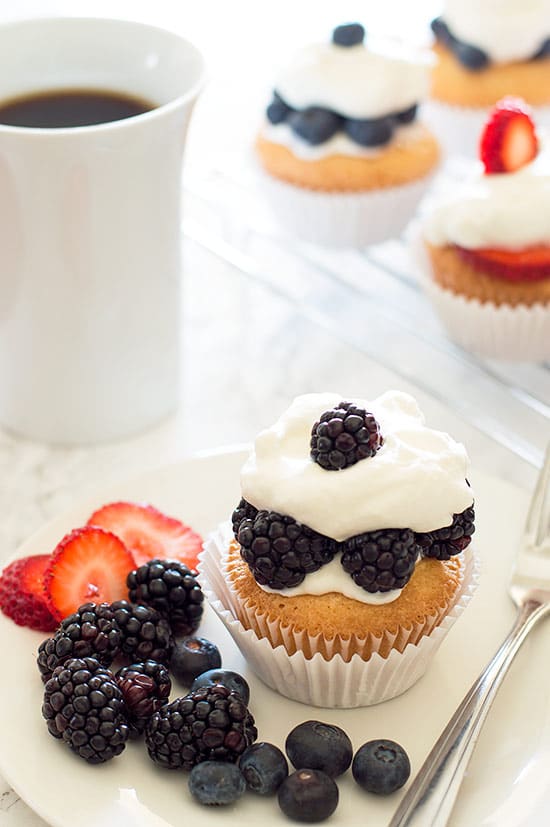 More Sweet Breakfast Recipes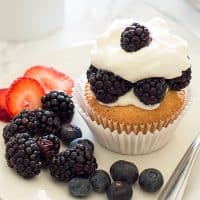 Pound Cake Cupcakes
Light, buttery pound cake topped with the berries of your choice and smothered in a lot more than a dollop of homemade whipped cream. A perfect excuse to eat cupcakes for breakfast.
Print
Servings (Hover or Click to Change Yield):
12
Ingredients
Pound Cake Cupcakes
1

cup

(

100

g) sifted cake flour

1/4

teaspoon

salt

1/3

cup

unsalted butter

room temperature

1

cup

(

200

g) superfine sugar*

2

large eggs

at room temperature

1

teaspoon

vanilla extract

1/3

cup

heavy cream
Whipped Cream
1 1/2

cups

heavy cream

1

tablespoon

1 1/2 teaspoon granulated sugar

1/2

teaspoon

vanilla

optional
Toppings
1 1/2

cups

berries of your choice
Instructions
Pound Cake Cupcakes
Line your cupcake pan. Do not preheat your oven.

Using two large bowls, sift together salt and flour and then return flour mixture to sifter and sift once more.

In a stand mixer (or with a hand-held electric mixer), with the paddle attachment, on medium-high speed, beat softened butter and sugar until visibly lightened in color, about 3 minutes.

Scrape down the sides and bottom and add the eggs one at a time, beating after each. Add the vanilla and beat until incorporated.

Scrape sides and bottom and with the mixer on low, add half of the flour, mixing until combined.

Add all of the cream and then the rest of the flour. Mixing well after each.

Scrape sides and bottom and beat on medium-high speed for 4 minutes until batter is smooth.

Fill cupcake cups 2/3 of the way full and tap tray on the counter a couple of times to remove any air bubbles. This should make exactly

12

cupcakes.

Place into a cold oven and set to 350°F. Bake for 20-27 minutes (depending on how fast your oven heats up), until golden and a cake tester inserted into the center comes out mostly clean.
Whipped Cream
If making by hand, place your (preferably) metal bowl and whisk in the freezer for about 15 minutes until they are very cold. Once chilled, remove bowl and add cream, sugar, and vanilla. Go to town whisking until soft peaks form.

If making in a stand mixer, using the whisk attachment, beat heavy cream, sugar, and vanilla on medium-high speed until cream reaches desired consistency, about 3-5 minutes.
Assemble
Spoon a thin layer of whipped cream over the center of your cupcakes. Place berries over the top and then spread a generous spoonful of whipped cream over the berries.

Garnish with one more berry and serve.
Notes
*Superfine sugar, AKA caster sugar is NOT powdered sugar. It is sugar with finer granules than regular granulated sugar and can usually be found in your grocery store's baking aisle in a box or can be ordered from Amazon. If you don't have superfine sugar, you can easily make your own by running regular granulated sugar through your blender or food processor for about 30 seconds.
Assembled cupcakes should keep in an air-tight container in the fridge for up to 24 hours. Plain cupcakes will stay fresh in an air-tight container on the counter for 2-3 days, though the tops become slightly fragile (prone to cracking and crumbling) as the cupcakes dry out.
Nutritional Information
Poundcake Recipe Adapted From: Epicurious
Small-batch Instructions: To halve this recipe, just remember that 1/2 of 1/3 cup is equal to 2 tablespoons and 2 teaspoons.
Freezer Instructions: Cupcakes can be individually wrapped in foil and frozen together in an air-tight container for up to 2 months, though tops may become slightly crumbly. To defrost, unwrap and allow to come to room temperature on a wire rack (so the bottom doesn't become soggy) for about an hour. I don't love to freeze whipped cream for use on baked goods, but if you have leftovers, you can freeze the excess in dollops to put in coffee and hot chocolate.