What to Do With Leftover Tomato Paste: how to store it, freeze it, and 10+ recipe ideas to use up the leftovers.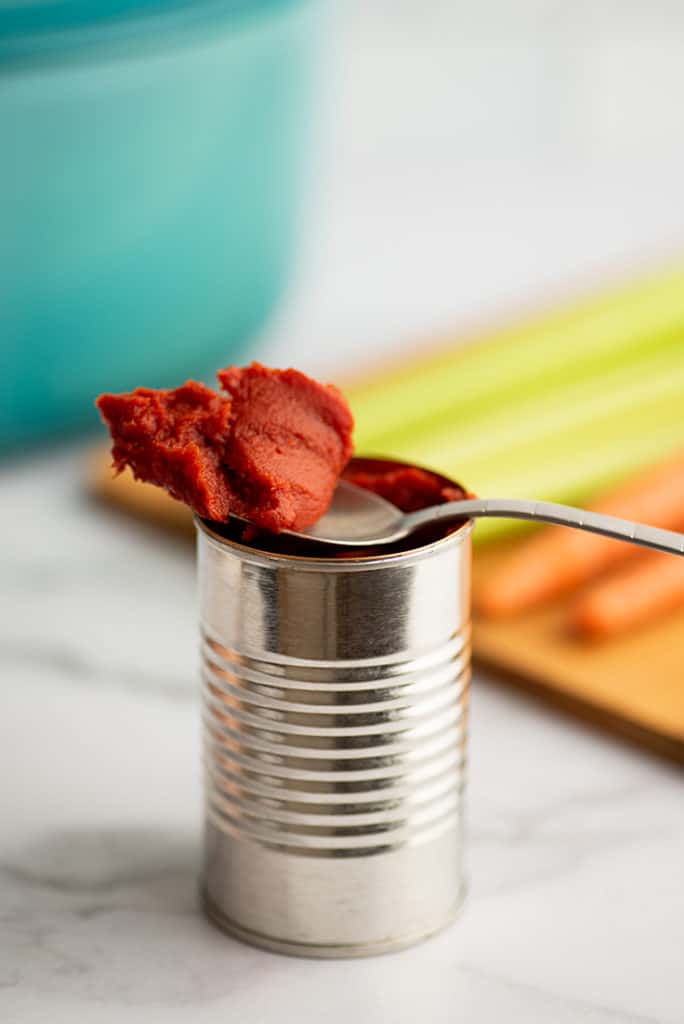 Heya, friends. It feels like a good time for another entry in my  "Waste Not" series, a series dedicated to reducing food waste in the kitchen.
So far on this topic, I've written posts for:
Today, we're tackling tomato paste, an ingredient that adds tons of flavor to whatever dish you use it in, but one that often goes to waste since a little goes a long way.
So here we go: What to Do With Leftover Tomato Paste.
How to Store Leftover Tomato Paste
Canned tomato paste will keep in the fridge for 5 to 7 days in an airtight container like a mason jar or pyrex storage container. You'll know it's gone bad if it starts to smell "off" or if it begins to mold.
Tomato paste that comes in a tube will keep much longer in the fridge, around 45 days. 
Tomato paste will keep in the freezer for 2 to 3 months in an airtight container or freezer bag.
How to Freeze Tomato Paste
The best way to freeze tomato paste is in 1 or 2 tablespoon portions since that's what most recipes call for.
I like to drop spoonfuls of it onto parchment paper squares and measure by weight (1 tablespoon of tomato paste weighs 16 grams) because it's quicker and less messy than using measuring spoons.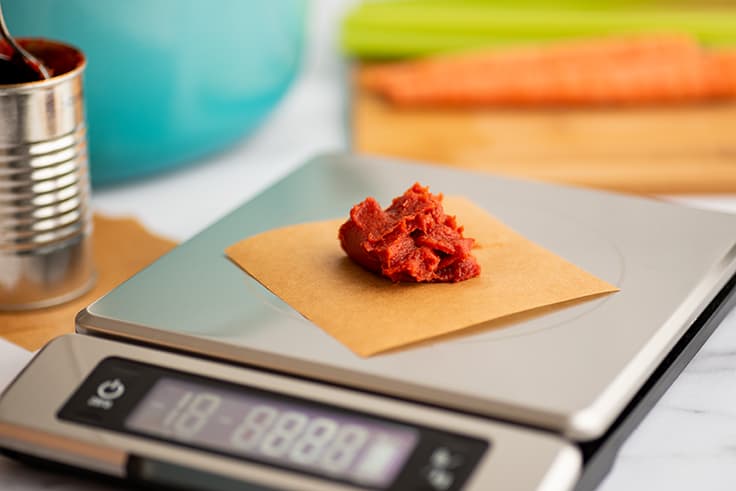 You don't need to be precious about your measuring. Just get it somewhere in the ballpark and then place all your squares on a plate and freeze solid.
Once the paste is frozen, you can transfer them (parchment paper and all) to a freezer bag for long-term storage.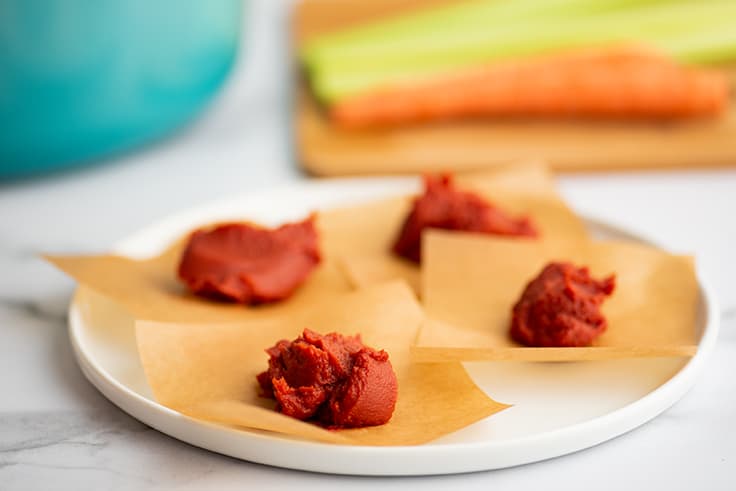 When you need tomato paste, grab one of the frozen spoonfuls and you're good to go.
Does frozen tomato paste need to be defrosted before using? Usually no. If you're using the paste in a soup or a sauce, you can just toss it in, and it will melt and meld in with the rest of the ingredients quickly.
The only time you really need to defrost the paste first is if you're adding it to a mostly empty pot with things like garlic that burn quickly, because the other ingredients will burn before the paste has time to defrost.
In that case, set the frozen paste near the stove 10 to 20 minutes before you start cooking, and it should be pretty close to defrosted by the time you're ready to use it.
Leftover Tomato Paste Recipes
When you're ready to use that leftover tomato paste, here are 10 recipes that use tomato paste to get you started:
This post may contain affiliate links, which means I receive a small commission if you make a purchase using them. There is absolutely no additional cost to you.