15+ shredded chicken recipes to make with pre-cooked shredded chicken. Plus the very best method for cooking shredded chicken.
You all know that I'm a big fan of prepping ingredients in advance to save time and effort later. And one of the absolute best things you can make ahead of time is shredded chicken.
Having cooked shredded chicken in your fridge or freezer will shave 20 to 30 minutes of cooking time off a huge number of chicken dishes so you can have dinner on the table in around 20 minutes.
Whether you have extra rotisserie chicken that you need to pull off the bones before you make stock (or chicken carcass soup!) or a few chicken breasts you want to get out of your fridge, turning them into cooked shredded chicken will save you a whole lot of time down the road.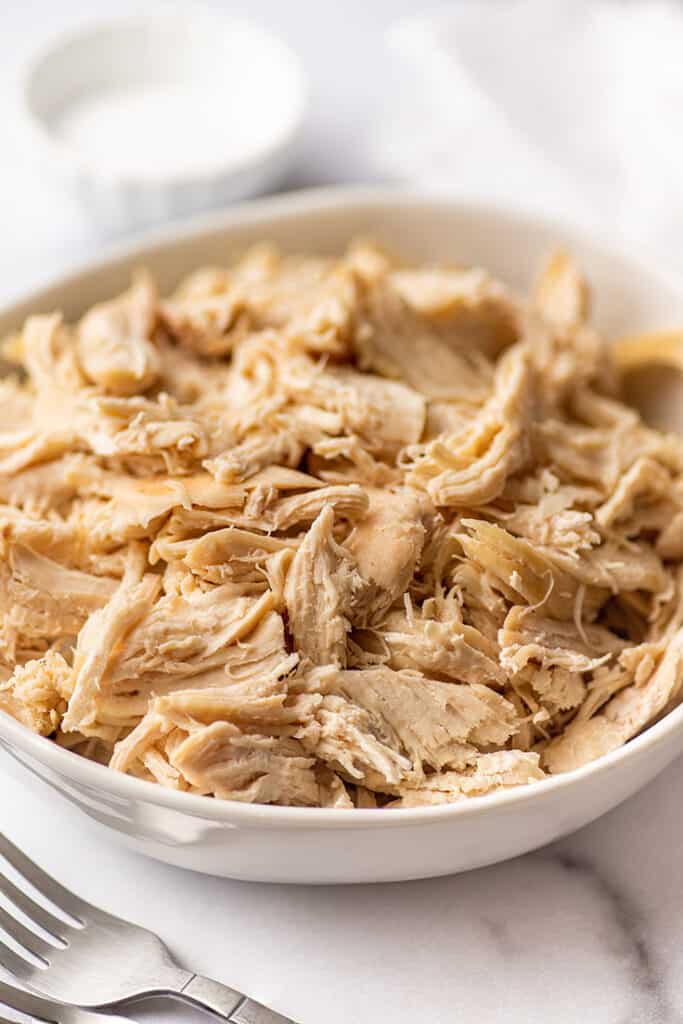 What's the easiest way to cook shredded chicken?
If you're starting with raw chicken breasts, the easiest (and best) way to cooked shredded chicken is a cross between pan-frying and something similar to poaching.
I wrote a whole post on How to Cook Shredded Chicken a while back, but you really don't need a recipe to make it. Once you learn the method, you'll never need the recipe again.
Season boneless skinless chicken breasts on both sides with salt and pepper and if you'd like, spices. Taco seasoning and Italian seasoning blends work great depending on what you're making with the chicken.
In a hot pan with a lid, drizzle a little oil or a spray of cooking spray and sear the chicken breasts on both sides until golden.
Then add enough water to the pan to come halfway up the sides of the chicken breasts.
Bring the water to a simmer, cover the pan, and cook until the chicken breasts reach 165°F using an instant-read thermometer. If the water evaporates completely, add a little more, but otherwise the chicken cooks without you having to touch it.
How to shred cooked chicken?
The simplest way to shred cooked chicken is with two forks. Just use one fork to anchor the meat and the other to shred it by pulling off small pieces of meat.
If you need to shred large quantities of chicken, the fastest way is (weirdly enough) to use a stand mixer with the beater attachment. If you want to see how that works, go check out my shredded chicken post where I cover it in way more detail.
How do I make shredded chicken from a rotisserie chicken?
To get shredded chicken from a rotisserie chicken, use the two-forks method. Simply pull large chunks of meat off the bones and then use two forks to shred.
Since rotisserie chicken is so tender, you can also just pull it apart with your hands if you prefer.
Shredded Chicken Recipes
Below are some of my favorite recipes where you can use shredded chicken. Most call for two cups of chicken, but there are a couple single-serve recipes in there that require less.
10 to 25-Minute Chicken Recipes
30-Minute or More Chicken Recipes
More Recipes to Make With Shredded Chicken
The following recipes do not specifically call for cooked shredded chicken but you can substitute shredded chicken or add it to the final recipe.
This post may contain affiliate links, which means I receive a small commission if you make a purchase using them. There is absolutely no additional cost to you.