Your cheat sheet of 30+ milkshake recipes. Make almost any milkshake with vanilla ice cream and a few simple ingredients.
I've posted quite a few milkshake recipes over the last couple of years, and it was about time to compile all of these recipes in one place for easy reference.
So I present to you my milkshake cheatsheet. If you're craving a specific milkshake (or maybe don't even know what milkshake you want) chances are you can find the recipe here.
And if not, leave a comment below, and I'll see what I can do. 😉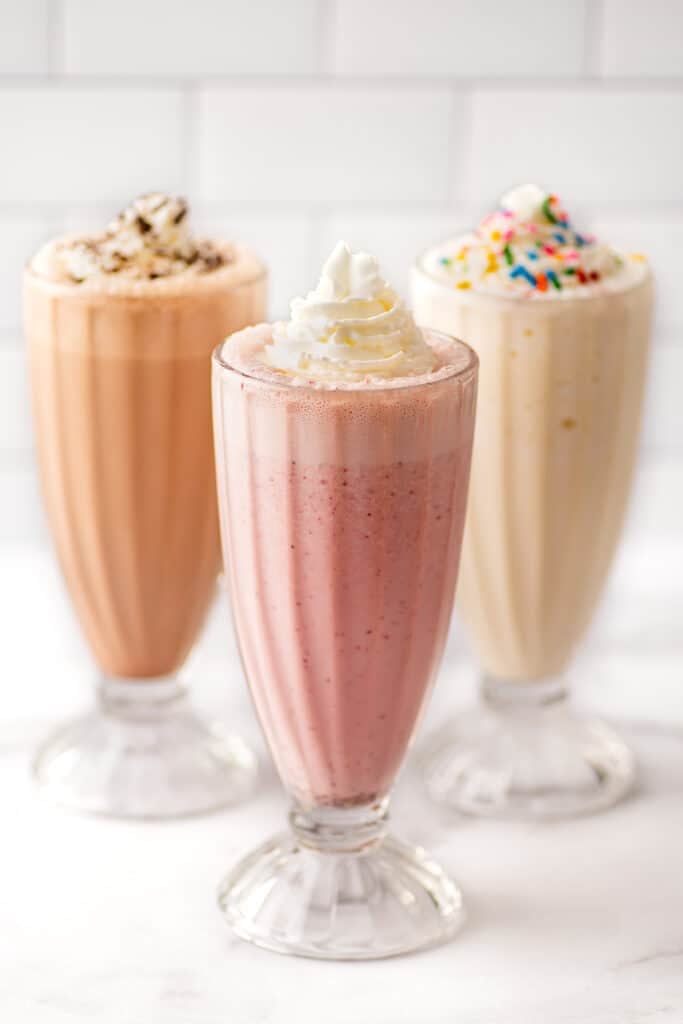 How to Make The Best Milkshakes
If you've read my How to Make a Milkshake post, you'll know that to make the best milkshake you need to start with the right ratio of milk to ice cream. The sweet spot for this is 1½ cups ice cream to ½-¾ cup milk.
This will give you a shake with a thick, creamy consistency but one that you can still drink it with a straw. Use more milk for a thinner shake, less milk for a thicker one.
All the recipes below start with this ratio + mix-ins. Put all those ingredients in a blender, blend until smooth and pourable, and you're going to have a great shake on your hands.
More Milkshake Tips & Troubleshooting
No blender? No problem: While fruit milkshakes can't really be made without a blender because you need the blender to puree the fruit, milkshakes that include ingredients that don't need to be crushed with a blender to mix, like shakes made with syrups and powders, are pretty easy to make without a blender. Go check out my post How to Make a Milkshake Without a Blender for full instructions.
Using an older or under-powered blender: If your blender struggles to blend milkshakes without adding a ton of milk, start with slightly softened ice cream. Scoop the ice cream into the blender and let it sit for 10 to 15 minutes before blending. Softened ice cream is much easier for blenders to process than ice cream straight out of the freezer.
Add a little sweetness: Using underripe fruit? Add a couple teaspoons of sugar to your shake. While it might seem like overkill to add sugar to ice cream, if you're making a shake with out-of-season fruit that's not at peak sweetness, a little sugar can really make all the difference between a mediocre shake and a great one.
Toppings
It's not necessary to add toppings to shakes, but it sure is fun. And for an extra pretty shake, take any of the sauces below and swirl them around the inside of the glass before adding the blended shake.
The Milkshake Recipes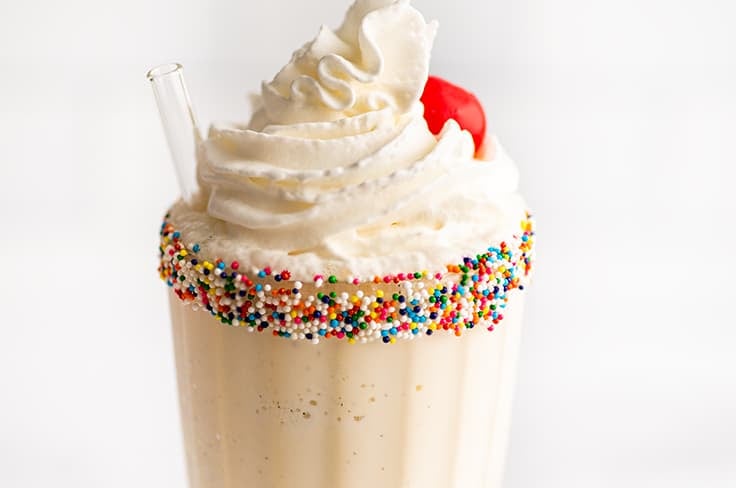 Vanilla Milkshakes
Vanilla Milkshake: 1½ cups vanilla ice cream + ½ to ¾ cup milk + Scraped seeds from ½ vanilla bean or 1 teaspoon real vanilla extract
Bourbon Vanilla Bean Shake: Vanilla milkshake ingredients + replace 2 tablespoons of the milk with 1 ounce (2 tablespoons) of bourbon
Chocolate Milkshakes
Banana Milkshakes
Strawberry Milkshakes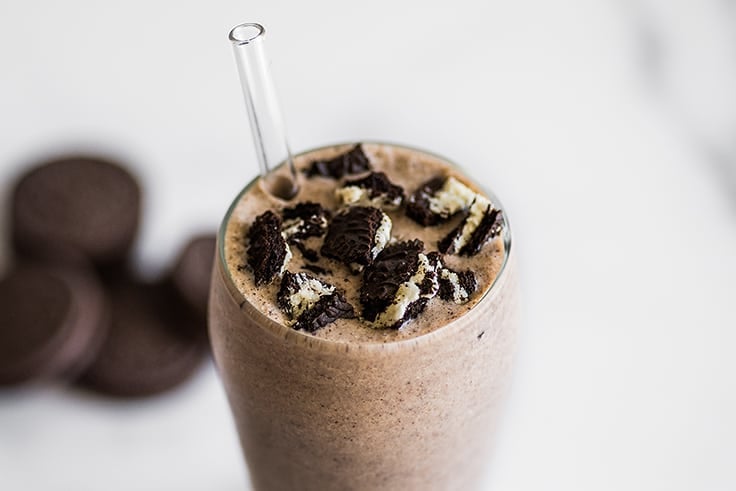 Oreo Milkshakes
Coffee Milkshakes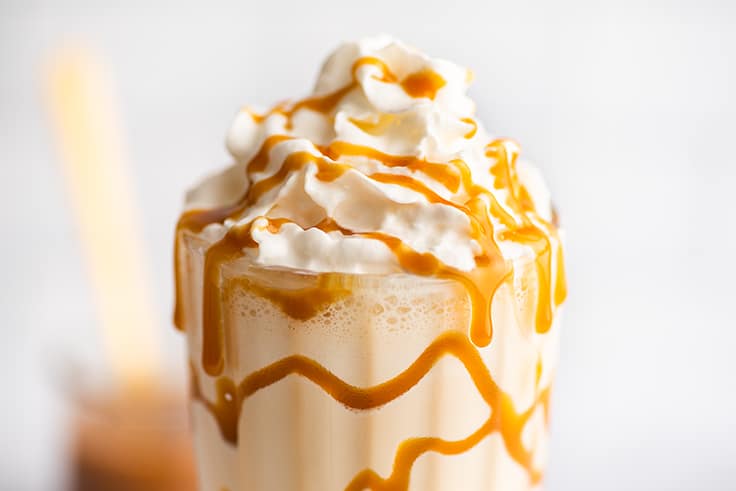 Caramel Milkshake Recipes
Dulce de Leche Milkshakes
Peanut Butter Milkshakes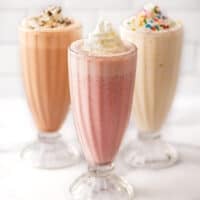 Milkshake Recipes Cheat Sheet
Your milkshake recipes cheat sheet. Make almost any milkshake with vanilla ice cream and a few simple ingredients.
Print
Pin
Servings (Hover or Click to Change Yield):
1
to 2 milkshakes
Ingredients
Milkshake Base
1½

cups

ice cream

about

3

large scoops, slightly softened

½ to ¾

cup

milk

any percentage
Vanilla Milkshake
Seeds scraped from

½

vanilla bean or

1

teaspoon real vanilla extract
Chocolate Milkshake
3

tablespoons

chocolate sauce
Banana Milkshake
1

large banana

¼

teaspoon

vanilla extract
Strawberry Milkshake
¾

cup

chopped strawberries

1

tablespoon

granulated sugar
Oreo Milkshake
4

Oreos

1

additional Oreo

broken into pieces for topping
Coffee Milkshake
1

teaspoon

to

1

tablespoon instant coffee or espresso powder
Instructions
In a blender, combine ice cream, milk, and any mix-ins, and blend until pourable.

Pour into a glass, top with whipped cream if desired, and enjoy!
Notes
*Use

½

cup milk for a thicker shake,

¾

for a thinner one.
This will make approximately

1½

to 2 cups, enough for one restaurant-sized shake or two smaller ones. 
Approximate nutritional information is for two vanilla milkshakes. 
This post may contain affiliate links, which means I receive a small commission if you make a purchase using them. There is absolutely no additional cost to you.